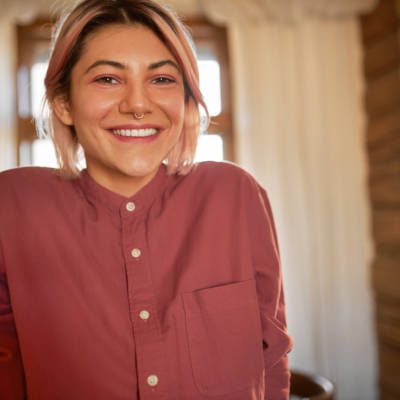 Amy, a young woman in her early 20s, is optimistic about her future as she talks about enrolling in University and building a home for her and her daughter. Having recently started a new job supporting young people at risk of becoming homeless, Amy is determined to affect change in housing policy, and in the lives of those who are heading down a path of 'chronic homelessness and instability,' a path that she knows all too well.
Explaining that she has been 'the hidden homeless' throughout her life, Amy reveals that her childhood 'was plagued by domestic violence,' with her and her mother constantly fleeing their home to escape her abusive father. Staying in hostels, 'granny's sofa,' or 'being in and out of care' was her normal. In an attempt to escape reality, Amy began taking drugs, engaging in harmful behaviours and missing school. At the age of fourteen she became a mother and was subsequently separated from her child, when they were both placed into the care of social services. Moved from place to place, including B&B's and a two year stay at a women's refuge, Amy was finally allocated a NIHE home at the age of 18.

"The NIHE were reluctant to give me a house before I was 18. They (NIHE) just assumed that I was in a safe place (refuge) and had a roof over my head. Like how can a hostel be a safe and secure place for a teenager, on her own? They never spoke with me directly, I don't think they knew how to, they dealt with my social worker – making decisions about me. That's how my life was, I had no say in anything and just had to accept wherever I was put for a roof over my head. I have no trust in social services whatsoever, it was all about making sure I had a bed rather than everything else that I was going through."
For Amy, the greatly anticipated home of her own brought with it a new set of problems and challenges.

"I had no idea of how to maintain a home, I had never had one before, I had nothing to go by. Social services had been speaking for me for years, no-one ever asked what I needed, how I felt or what I wanted. I didn't know how to budget, how to top-up gas and electric, or what was acceptable behaviour. I was so lonely and lost."

Amy's tenancy was short lived as 'history repeated itself,' and she herself became the victim of domestic violence. Yet again, Amy struggled to find stability and a place to call home.

"I should have known the signs of domestic violence, what to look out for, but the fact is that I didn't. I wish that someone had explained certain things to me when I was younger, like what factors can lead to homelessness, whether it be domestic violence or anything else. Even the basics, like how to maintain a tenancy or even where to turn to for help, would have helped me."
Determined to break the cycle of homelessness, Amy achieved 30 qualifications through the Give and Take project. Although she states that she 'went off the rails' at times, she attributes her success to the project staff 'who went above and beyond' to ensure she completed the course. Following this, Amy participated in programmes at a local youth organisation, and she believes that this has opened up a world of opportunity. Therefore, despite her continued struggle to feel settled, she is keen that others are supported to overcome similar challenges to those she has faced during her young life.

"I still find it hard to manage a home at times and I often get the feeling that I need to move on, I suppose that's because I have been doing that my whole life. Unlike before though, I now know when I need help and how to ask for it. Young people are often dealing with a range of issues and it's about making the help and support accessible and bespoke to them. I don't think anyone really understands what it's like to be in and out of care, and to be homeless for much of your life. Even something as simple as a tenancy handbook which explains their rights could make a real difference. It's about time that we stop seeing homelessness as one issue, a roof over our heads, and make sure that young people have a chance at a decent life."

At Simon Community NI we respect everyone who comes to us for help. While this story is true, the identity of the participant in our Hidden Homelessness research has been changed to protect their privacy.