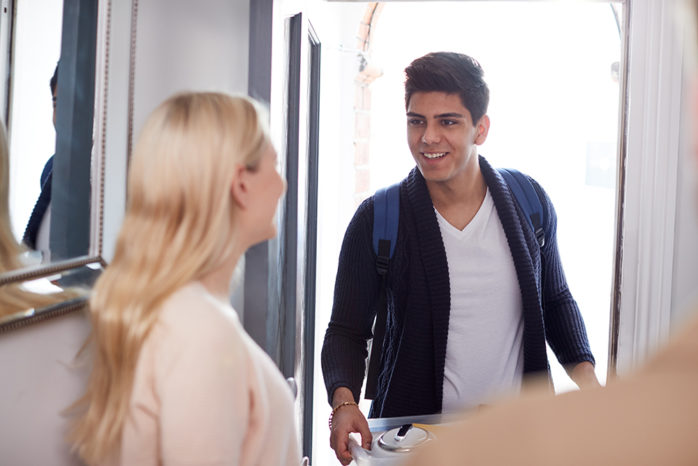 The initial months of a new tenancy can be daunting. Our Move On Coach service supports clients in overcoming challenges that can arise during this settling in period. All our Move On Coaches are highly-trained and skilled volunteers, who are matched to a client for a period of three to six months.
With a focus on building independence, confidence, and resilience the service enables clients to sustain their tenancies long-term and reduce their risk of re-entering the cycle of homelessness. It is an innovative, flexible, and adaptable approach to tenancy sustainment.

What To Expect
This service is available across all of our service locations and open to any client who is preparing to move into their own tenancy and who feels they would benefit from this type of support. When a client is referred to the service, they will be matched with a trained and skilled Move On Coach who will work with them to identify and resolve any practical needs surrounding their tenancy or signpost them to further support where necessary.
Move On Coaches can support you (the client) in the following ways:
Listen to any concerns or issues you have regarding your tenancy. They will help identify solutions or put you in contact with someone who can help
Support your physical, emotional, and social wellbeing
Assist you in setting up utilities and provide information on payment and upkeep
Assist you in locating local amenities and support services that you would find helpful (e.g. healthcare, transport, job centre, library, shop)
Where necessary, support you to complete application forms e.g. benefit claims, job applications
I am over the moon that the Simon Community is now offering this service to all clients moving on from our hostel based accommodation. If we as an organisation are determined to end the cycle of homelessness for our clients then it makes sense that our support does not stop when they move on. If we can support our clients during their initial 3-6 months in a new tenancy, whether that be paying bills and money management, getting to know and becoming a member of a new local community, or simply being that person they can ring for advice then I think this service is a no brainer in supporting our clients to successfully maintain their new tenancies.
My experience when offering clients this service has been that they leap at the chance to avail of support during what can be a very scary and stressful time. In addition our volunteers say they feel privileged to be doing work that has real meaning and can be so impactful on clients well being and breaking the cycle of homelessness for good.
While everyone's journey will be unique, within this service our team can help with a range of issues, including:
Help with moving from accommodation project to new home
Support with setting up utilities, payment, and upkeep
Support clients to locate local amenities and support services (healthcare, library, shop, transport)
Promoting physical, emotional, and social wellbeing
Signposting to other services
How to access the service
The Move On Coach service is available to any client within our accommodation projects who is preparing to move into their own tenancy. Referrals to our Move On Coach service can be made by a staff member on behalf of any client in our services.
If you are an existing Simon Community NI client, speak to your support worker for more information.
If you are interested in becoming a Move On Coach, click here to register your interest.