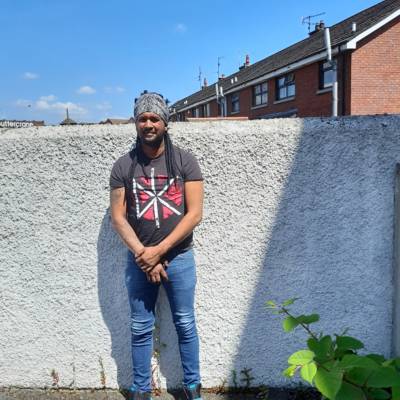 40-year-old Reuben became homeless following mental health issues after the loss of his mother and sister. When he suffered a mental health breakdown, he ultimately lost everything he knew and his life at home and business began to unravel.
While residing at our Newry temporary accommodation services, Rueben has overcome prejudice, racism and discovered how to select better company, resulting in the finding of lifelong friends.

In addition to friendships Reuben says "the staff are always supportive and someone is always available for me to talk to, they are open and non-judgmental, and have helped me make plans to better my future and to achieve my goals."
"When first arriving to Simon Community I was tired and hungry, I was just happy and relieved to feel safe" Reuben stated recently about his future "I hope to continue my education and establish my own home."
In five short months Reuben has progressed leaps and bounds with his mental health and is an active volunteer in the Newry Confederation of Community Groups which offers advice, practical support, services and training in the Newry and Mourne area. He has found the balance of health and wellbeing into his routine where he often goes hiking, to the beach and for walks in the forests and has started to cook for himself again. The positive vital assistance achieved by the support workers and team in our Newry Accommodation Service has greatly impacted Reuben during his time at Simon Community NI.
We continue to ask ourselves how can we bridge the gap for those like Reuben who are facing homelessness and those who are passing by each day unaware of the extent of the issue? We aim to keep the conversations going, working together to create more homes for those in need and help build brighter futures for clients and staff alike.
Simon Community NI staff change the lives of people from all walks of life every day, people who go through challenging times. On average we support 1,136 people every day through our many services offered across Northern Ireland for those with no home. We couldn't do this without the support of our committed donors. Please help us change lives and promise brighter futures to vulnerable people in Northern Ireland by supporting our Summer Appeal.