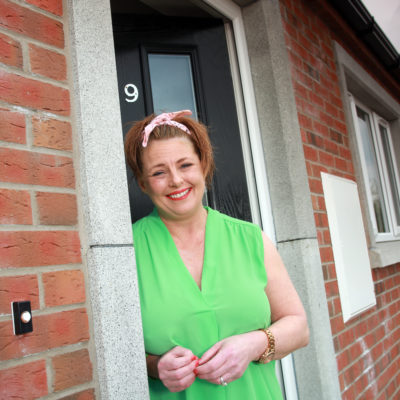 "Working with Simon Community saved my life. I wouldn't be alive today and have this beautiful house, if it wasn't for them. I have never known kindness like it. I'm now happily living in my beautiful home and feeling proud to be part of my local community again."
Before the death of her mum, Louise was a bubbly individual with a loving family, safe home and a talent for arts and crafts. However, after her life was turned upside down, she found herself quickly moving towards a dark place as poor mental health and addiction issues spiralled out of control.
At rock bottom, Louise eventually lost her home, her relationship with her children and, after one very low night, nearly her life as she looked down onto the River Bann considered taking her life during this very difficult time.
After being introduced to Simon Community, everything changed for Louise as specialist support staff worked with her to manage her prescription medication issues, improve her mental wellbeing and ultimately get her to a position where she could live independently again.
In early 2019, Louise was recommended to participate in Simon Community's new Tenancy Liaison service, which supports individuals to move into privately rented homes by providing the deposit and support needed to turn this option into a reality. 
Since moving into her new home in April 2019, Louise has flourished, reengaged with her children and become an active participant within with the local community – currently undergoing training to become an arts and crafts volunteer with Simon Community's Portadown project.
Why not volunteer and help people like Louise receive the Shelter & Support needed to live independently.