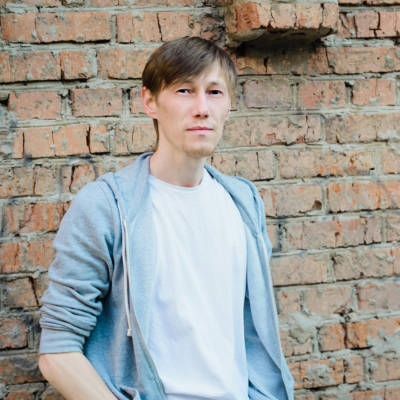 James became homeless after the breakdown of his long-term relationship. Despite having a steady, full-time job, as he was originally from England, he had no support-network here in NI. Moving back to his hometown was not an option for James, as his children, job and friends were here, he had built a life and didn't want to lose that along with his home.
James was referred through to Simon Community and admits he had no idea what to expect,
"I remember feeling nervous. I remember thinking this is a homeless hostel, what will it be like. In England homelessness meant sleeping on the streets, partially clothed and in a box, I really didn't know what to expect and was anxious. When I arrived, I was greeted like it was just a normal house, Joanne, the hostel manager, was friendly and smiling and made me feel at ease immediately and I was allocated Paul as a key worker who has went over and above for me."
As James had moved from Belfast to our Bonds Hill project in Londonderry, it meant he needed to seek new employment. The team at Simon Community supported him by assisting with CV's, job searching and even the practical things like getting taxis to interviews.
Once he was settled in his new job our Support Workers began to look at permanent housing options for James.
Private rentals are often difficult to afford for those moving from hostels, there is frequently a substantial upfront cost of a month's rent or a security deposit or sometimes both, which often rules this option out. But thanks to the help of supporters like you, Simon Community is able to fund a Rent Deposit Scheme, to remove this barrier for those, like James, who are ready to move on.
James is now looking forward to spending the first summer in his new home with his children and creating new memories as a family. This would not have been possible without your help.
"At Simon Community, no one is treated like they are homeless or like they have no prospects in life. It's refreshing, that there is no judgment or opinions all just open and honest. Now, my main focus is my home and my kids. Continuing to hold down my employment and be the normal person I was before the relationship breakdown and period of homelessness."
The people we support are not in hostels because they want to be, they want to move on and have a home of their own. If you can, please consider supporting our work by donating to our Move On Appeal. This helps people like James, and many others, begin their life again, by providing rental deposits or a move on pack filled with essentials for their new home.
A donation of any size will help us continue to provide these vital services. Donate Here.
Interested in joining our team? We're recruiting now.
At Simon Community NI we respect everyone who comes to us for help. While this story is true, our client's identity has been changed to protect their privacy.