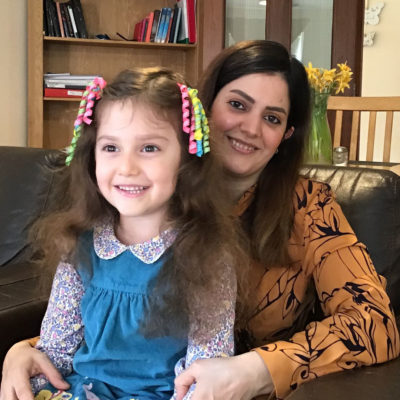 Sitting in a small flat in West Belfast chatting with a charming family, no one could ever imagine the stresses that Hanie felt the day she and her daughter fled her home and country.
Leaving in the wake of her husband's conversion to Christianity, Hanie sought refuge and found a temporary home at our Belfast family project.
With nothing more than one bag filled with belongings, Hanie and her daughter Jasmine, who was two and a half at the time, made the difficult journey to set up a new life in a new country, one where her husband had escaped to in advance of their arrival. Reflecting on this period, Hanie said*,
Where I am from is very traditional and, as a single mother living by myself, the local community were not supportive of me. I was forced to go back and live with my parents, which was so hard. But this didn't stop people talking. The social pressure became overwhelming.

Travelling to Belfast was such a hard journey. Jasmine was so small and wasn't walking a lot. She would get so tired and ask me to pick her up all the time. I was carrying all our belongings and it was so exhausting.


We also got stuck in France for 40 days. I was running out of money and had nowhere to stay. The hardest part was that I couldn't give Jasmine all that she needed. It was awful

In my home country, I was a Math and Statistics Teacher for 10 years. I earned good money and have always been able to provide for Jasmine. As a mother to not be able to give basic items to your child is heart breaking. That was the hardest thing of all. I felt hopeless and just so sad.
When I arrived in Belfast, I was so relieved. Belfast is full of such lovely people and they are so helpful. I felt at home


The staff at Conway Court have helped us so much. When we first arrived, they gave us heaters and provided so many small things that made such a big difference. They're like our family.


Conway is a good place. It's been so nice to be here. Two days a week they have English classes for the mothers and their children. It's great to be able to meet up and socialise with other mothers.
Jasmine has made lots of friends here too, she's always asking - Is this our house? I love it here!

When asked what advice Hanie would give to other mums going through a difficult time, she said, 
It's very difficult to be a mum, you have to make your child your priority. When you have a child it really is a blessing. During the hard times it's so important to look after your child as they really need you, and just remember that the hard times will pass.

When asked what Jasmine would like to say to her mum for Mother's Day, overcome with an uncharacteristic shyness, she simply said,  
Thank you and I love you.
Help us to continue supporting women who are homeless. Just £10 could help provide emergency food or clothing. Please Donate Now.
*For the purposes of this interview Hanie's responses where sometimes translated by her husband Mathew.
Interview was conducted in 2020 before Covid-19 lockdown restrictions were in place.