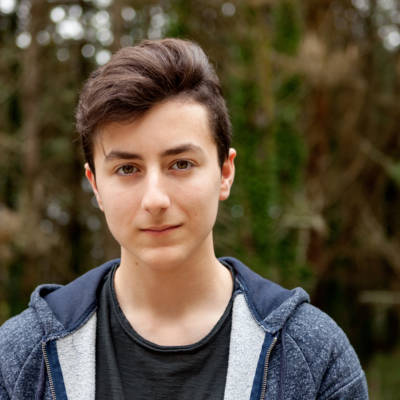 19 year old Gabriel has been with our Transition Project for Separated Children for nearly 2 years. Originally from North Africa, Gabriel is seeking asylum in NI and working closely with our team on settling here in Northern Ireland.
When first arriving to Simon Community's Transition Project Gabriel found himself with new responsibilities to look after. Finding himself in a home, he was filled with excitement and nervousness.
Gabriel has found his experiences within the transition project positive and seamless, as we hope for most individuals.

"All the times at Transition Project are good times now. My favorite day was the first day when I moved in. I also like when we do activities, like go-karting, mini golf, and swimming at the pool. "

There have of course been hardships living within the Transition Project, from negative neighbors to anti-social behavior, with Gabriel's positive personality he has persisted through and always found the good in his situation.
With the support of the staff, Gabriel is continuing to grow and learn about how to live independently, from budgeting, managing stress, talking through tough situations, to accessing services that will benefit him. He has continued to mature through his experiences within the transition project.
When asked what your hopes for the future are, Gabriel responded with:

"I hope to have my asylum granted and then I can do anything I want, like to study mechanical engineering, find a job, to help myself and my future. "

Today Gabriel is growing more and more confident and has big plans. As he continues to manage his independence of being a young adult, he hopes to continue his education and pursue a career. Being a social and active man, he is also focusing on balancing his physical health by staying active and playing football and eating healthy. Through his time at Simon Community, Gabriel stated:

"Simon Community are very good with refugees; the staff help with everything you ask and they are friendly as well. "
At Simon Community NI we respect everyone who comes to us for help. While this story is true, our client's identity has been changed to protect their privacy.