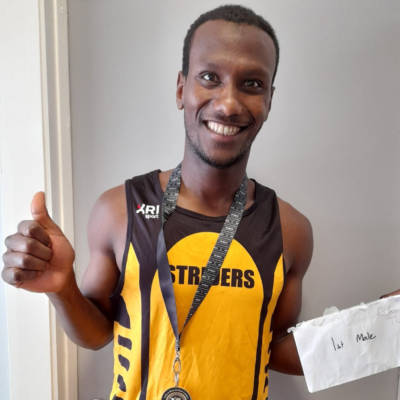 When studying electrical engineering at college in 2010, in his home country of Ethiopia, Eskander took part in a student protest to oppose the treatment of the Oromo people: a large minority ethnic group who have been subject to political oppression and state violence. The military arrived and opened fire on the protest group and arrested forty to fifty students - Eskander was one of those students. From there, and without his family's knowledge, he was sent to an underground prison and was tortured.
Soon after he was released, his mother sold her possessions to raise funds to help Eskander escape Ethiopia. This was the beginning of a decade long journey that saw Eskander become the victim of slavery, human trafficking, and homelessness before finally boarding a bus, in April 2019, to seek a new life in Belfast.
Upon arriving at Simon Community's Saintfield Road project, Eskander remembers feeling nervous and depressed. However, Simon Community staff worked with him to form a trusting relationship and ultimately help him gain refugee status. Over time, he formed a new group of friends and under advice from his doctor was encouraged to join a local running club as a way to manage his trauma.
Reflecting on his first race, the Feile an Phobail 10k marathon where he came in first place, Eskander said:
I ran my first race - with no training and I ran eighteen minutes for 5k. I wore thin shoes from Lidl
Aware of the positive benefits running was having on his mental health, staff arranged for Eskander to move to the organisation's 414 Falls Road project where he was closer to his running club. Staff at the project are currently helping Eskander to establish his new life in Northern Ireland by working with him to secure a private rental property and his driving licence, so that he has a form of photo ID.
Speaking of the progress Eskander has made during his time with Simon Community his key support worker Timothy Anderson, Senior Practitioner at 414 Falls Road said:
Eskander has been an absolute joy to work with during his stay at Falls Road. Eskander has such a heart breaking back story, yet to see him now so happy, content and grateful for all he has is an inspiration to us all. We are all very hopeful for Eskander's future and it has been an honour to be part of his journey and help in whatever way we can.
Now settling into Belfast life, Eskander has been accepted onto Simon Community's tenancy deposit scheme and wants nothing more than to find a job and a home he can call his own. Speaking of his experience with Simon Community, he said:
I am so thankful to the Simon Community for the help and support they've given me. I am very happy to be living in Northern Ireland and look forward to finding a home. I'm so grateful for this new opportunity.
The 40th Belfast City Marathon is on Sunday 1st May. By running, relaying or walking for Simon Community and raising just £70 you could provide 3 Welcome Packs, filled with essential items and 3 emergency heating grants, helping someone just like Eskander. Click here to learn more.