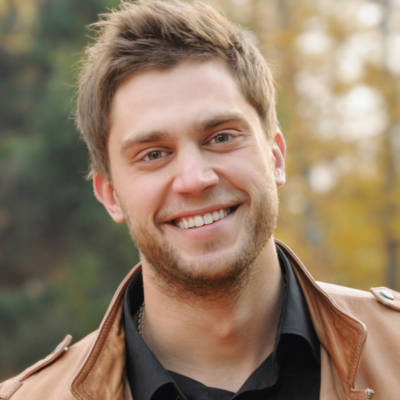 Originally from Birmingham, Ciaran moved to Northern Ireland to live with his partner. Soon after his move, the couple found out they were expecting their first baby and the strain of the unexpected arrival took its toll on both parties, which eventually led to the relationship breaking down and Ciarán being left with nowhere to live.
Reflecting on his first experiences after finding himself homeless, Ciaran said:
This was very difficult, as I didn't know where to turn or what to do. I was referred into Simon Community's Derry service by the Housing Executive.

I was sceptical to begin with and did not know what to think. There is still a stigma around homelessness and when you hear 'homeless hostel' you almost expect people to be laying around in sleeping bags. When in fact it's the opposite.
I had my own room with wash basin, fridge and cupboard, and the bedding was new. I automatically knew it was not ideal but it could be worse. I was welcomed and supported from the get-go, all my anxieties where eased. I was assisted in all areas of move on and because I was working casually, I was given support to complete my CV and applying for employment.

Experiencing highs and lows during his time at the project, Ciaran tended to keep to himself and recognised that other individuals at the project were going through their own issues. However, over time he came to build relationship with staff who he began to trust in and knew only wanted the best for him.
Finding the staff's open-door policy refreshing, Ciaran took great comfort in knowing someone was always there for him. Speaking about the difference this makes, he said:
I didn't know what to expect when arriving and because I'm from Birmingham I knew little about Simon Community NI. Now, I would be first to defend the service, the clients using it and what it offers. As it was there for me and offered so much support and guidance during a very difficult time in my life.
Working alongside his support staff, Ciaran's specific homelessness needs were identified and responded to during his time at Simon Community. From providing food vouchers and toiletries to help with his CV and providing housing advice, Ciaran soon found a part-time job and felt that he was on the right pathway to finding a home.
Speaking about his life now, Ciaran said:
I've sourced a private rental tenancy and I was able to avail of the Tenancy Deposit service Simon Community offer. Knowing the deposit had been covered was a huge weight off my shoulders and I will be eternally grateful. Staff also helped me apply for a discretionary grant to furnish my new home. I now feel so content knowing I have somewhere to call my own and somewhere safe where I can spend time with my child.
Now living in his own home, Ciaran recently interviewed for a promotion at his workplace and was successful, he has since been made full-time. Thankful for the support he received while at Simon Community, he recognises that at a time when his life could have been filled with negative experiences, the team were able to create positive memories for him. Thankful for all that he has been able to achieve, Ciaran commented:
I've offered to come back and help them with whatever Simon Community need, whether it's just gardening or being the project's handyman. I want to give something back for all they've done for me.
I wouldn't have been able to get where I am without the support and constant guidance from the staff. My life has been completely transformed, everything in my life is looking up.
As we look to expand our services further in 2022, now more than ever we need people to join our team and support more individuals like Ciaran. Help us provide shelter and support to our clients, in Belfast and across Northern Ireland. Join us today!