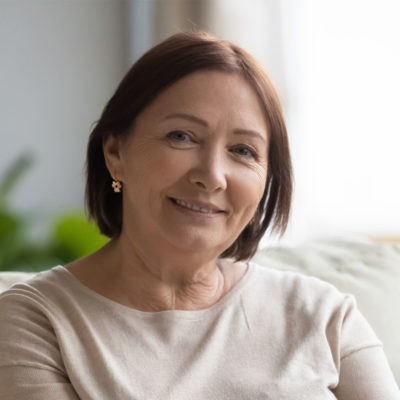 Christine was 56 years old when she became homeless. She had been in a long-term relationship which broke down after she suffered a sustained period of domestic violence.  Not having anywhere else to go, Christine turned to Simon Community for help and found a warm, safe bed and support at our Bond's Hill hostel in Derry/Londonderry. 
At first, Christine was embarrassed, feeling like she was 'too old' to be homeless. But, our staff welcomed her warmly with no judgement, helped her settle in and meet others in the hostel to ease her sense of loneliness. Christine was able to benefit from our 24-hour wrap around support, with one of the team always on hand for encouragement or sometimes just a much-needed chat to improve her mental health. 
By engaging with our Wellbeing Team, to help address some ongoing health issues, Christine was able to make the decision to reconnect with her daughter after a long period of not speaking. Our team were able to mediate this and Christine can now enjoy contacting her daughter and grand-daughter twice a week and they were able to spend all of Christmas together safely in a bubble. After 212 days in our hostel, Christine is now preparing to move into a flat and live independently again and she is so thankful.
I have received support to the highest level in my time at Simon Community and I am grateful. No task, question, problem is too much. The staff are always on hand to help and always wanting the best for you and to keep you safe from harm and to fulfil your full potential.
I'm glad I was placed here as to begin with I was nervous and had an image in my head of what I thought this place was. I, however, was wrong and I will be forever grateful for what the staff at Simon Community have done for me.
If you can, please help support our work by donating. A donation of just £10 can help someone who has no home, simply click here to Donate Now.
At Simon Community NI we respect everyone who comes to us for help. While this story is true, our clients image has been changed to protect their privacy.