Simon Community NI launches campaign to change perceptions of homelessness by highlighting overlooked casualties of the crisis.
We have officially launched a new campaign aimed at promoting greater awareness on the often-forgotten faces of homelessness. The campaign, sheds light on the thousands of Families, Young People and people with Mental Health conditions who are currently experiencing homelessness and encourages politicians, businesses and the public to take a societal response to the problem.
Often viewed as a winter crisis; homelessness is, in fact, a daily issue in Northern Ireland with statutory figures having grown by 32% in the past five years and evolving into an issue that targets people from all walks of life. Aware of a growing issue, Simon Community NI, who support almost 3,000 people each year across 22 services, has been particularly concerned with the number of families, young people and those with mental health conditions presenting to the Northern Ireland Housing Executive and their services as homeless. Speaking about the campaign, Jim Dennison, Chief Executive at Simon Community NI, said:
"Every day, Simon Community ends homelessness for someone, but we are only scraping the surface. It is a fallacy to think that we can end homelessness without legislative changes from a functioning Stormont and
without buy-in from local councils and the wider public. Our campaign aims to showcase the true faces of homelessness by representing the individuals that it impacts."

Jim Dennison – Chief Executive at Simon Community NI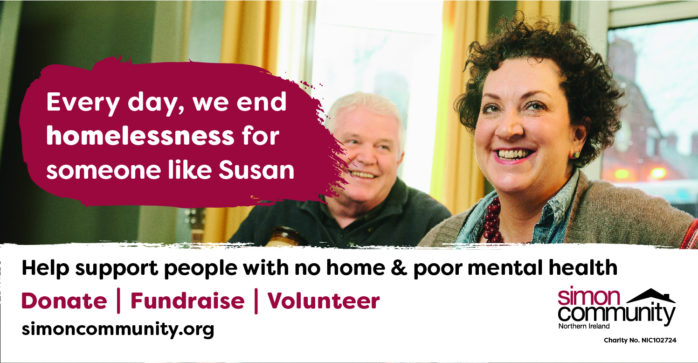 Issues such as overcrowded homes, run-down property, expensive private rental market and family breakdowns can all lead to homelessness. Often an invisible group, currently 6,000 families and 3,500 young people in Northern Ireland are classified as homeless, with 35% of Simon Community NI's client base aged 16-25. The implications of homelessness on these people can have long-term effects with poorer health, education, emotional wellbeing and opportunities in life being linked to childhood homelessness. Speaking about the growing pattern, Karen McAllister, Head of Young People Services at Simon Community NI said,
"We only need to look towards Dublin to see a glimpse of a possible future – families living out of cars and hotel rooms while young people find shelter on the streets. If we are looking to end homelessness then we, as a society, must work to break the cycle at the earliest stages. To do this, we urgently need government departments to work collectively to tackle the root causes that bring people to a place of homelessness. Decent affordable housing must be at the heart of any strategy for improving the life chances of children andyoung people and reducing child poverty."

Karen McAllister – Head of Young People Services at Simon Community NI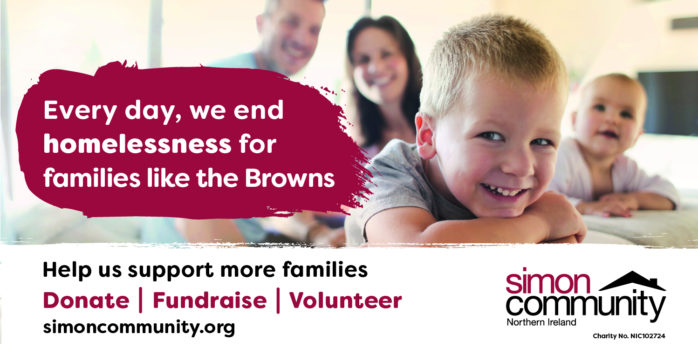 Homelessness and mental health are intrinsically linked with serious conditions such as schizophrenia, bipolar and post-traumatic stress disorder, which are more common among homeless people. At Simon Community NI, 69% of clients have mental health issues often brought on by or worsened by things like poor housing, rough sleeping and sofa surfing. Furthermore, over a third of Simon Community NI's clients have a substance dependency – often linked to mental health conditions. Acting as a catalyst, homelessness can make it harder for these people to recover from a condition, maintain a job, develop relationships or manage their home. Delighted to be raising awareness around homelessness and mental health, Eoin Ryan, Head of Health, Wellbeing and Practice Development Services at Simon Community NI stated:
"Being homeless is a difficult experience whether it be rough sleeping, hostel living or being in an overcrowded home. Mental wellbeing and treatment may be the last thing on a person's mind as they focus on paying rent, finding food or securing a bed for the night. Once in the cycle of homelessness and

poor mental health, it's often easy for individuals to see alcohol and drugs as their only option, which only exacerbates the situation. My hope is that this campaign will help to bring about change in public perception by dismissing the myth that homelessness is a choice."

Eoin Ryan – Head of Health, Wellbeing and Practice Development Services at Simon Community NI
For more information on Simon Community NI or to find out how you can help end homelessness in Northern Ireland, click here.
£10 could provide activities at one of our hostels, helping other young people combat loneliness and improve poor mental health.
Please donate today, by clicking the Donate Now button below.
Thank You!