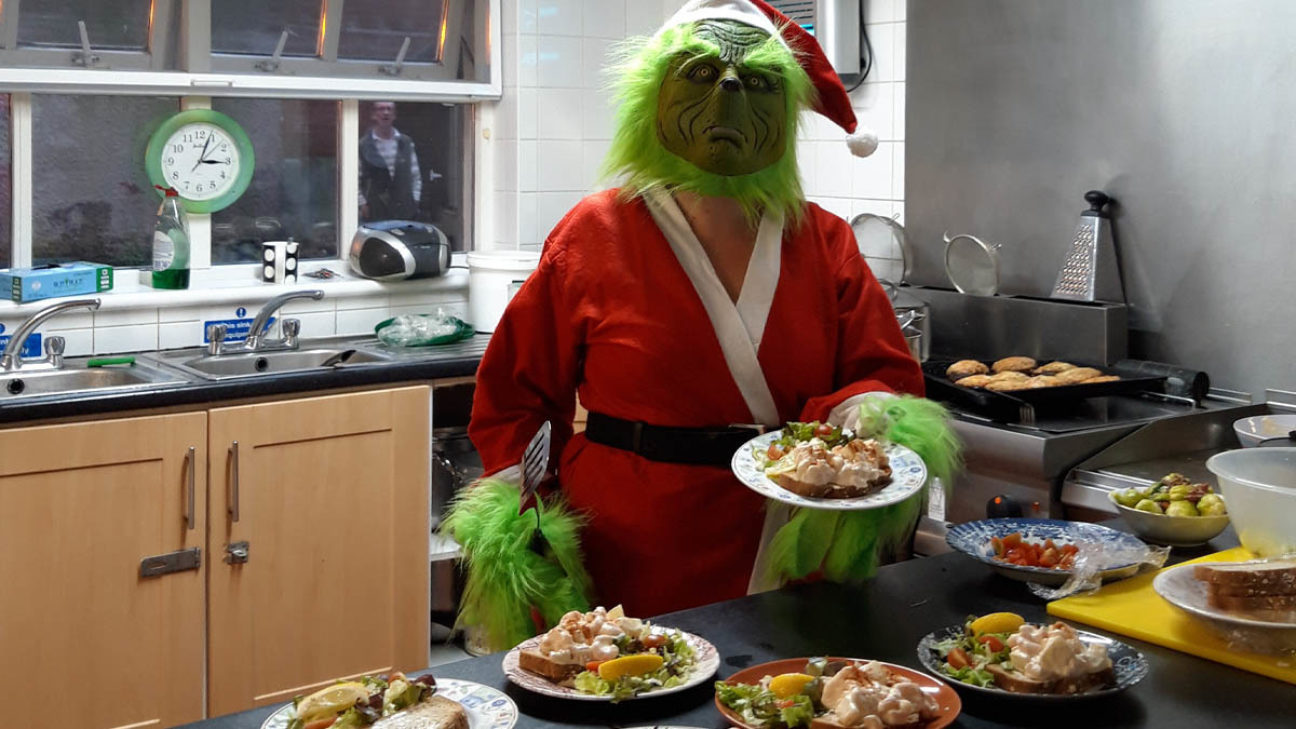 Continuing our Cooking up a Storm with Simon Blog series and as part of our commitment to homelessness prevention, through the development of essential life-skills, we've once again caught up with our very own Nigella, Fionnuala Fearon, chef at the charity's Armagh project.
Cooking for 22 people every day on a budget of 25p per meal per person, Fionnuala is well versed when it comes to preparing meals on a budget. Speaking about her plans for this year's Christmas dinner, Fionnuala said:
I always think of cooking as a social activity and at Christmas coming together is even more important. Many of our clients are no longer in touch with family, and the Christmas period only amplifies their feelings of loneliness and isolation.
At the project we try to make preparing Christmas dinner as fun as possible with everyone getting involved, the term 'too many chefs' means nothing here.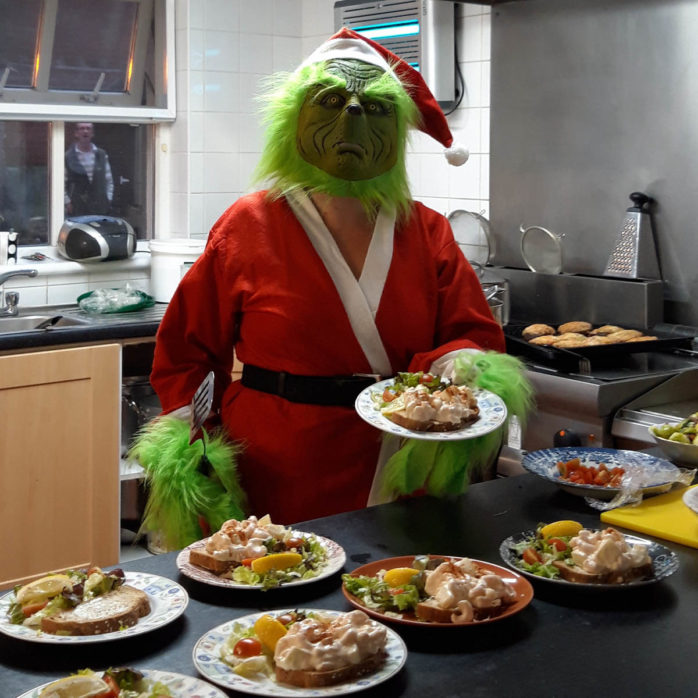 At the project, clients get involved to help set the tables, decorate the dinning room and help peel the veg. When everything is ready, staff and clients sit down to eat together – The project really does feel like a home away from home.
I also think that for many people outside of the project Christmas can mean a lot of pressure both financially and emotionally. It's hard when you see lots of advertising with happy families and tables filled with food, when the reality is that people can struggle to put a Christmas dinner together. That's why I'm so keen to try and help others make the most of their tight budgets this Christmas.
Fionnuala's 5 top tips for preparing Christmas dinner;
Buy a frozen turkey they are just as good as a fresh just make sure you buy one that fits in the oven or if there are only 2\5 people consider buying a turkey breast and stuffing it.
Start saving the heels of bread for stuffing they will keep in the freezer.
Consider buying frozen veg, as you only need to cook what you need.
If you don't have a lot of freezer space, go to the supermarket as late as you dare on Christmas eve, all of the fresh produce is nearly always reduced.
The supermarkets are only closed for 2 days don't feel pressured into overbuying stuff that will end up in the bin. Make a shopping list and try to stick to it as best as possible.
Always keen to share her knowledge, Fionnuala volunteered a recipe:
As a bonus I also want to share my Shortbread Recipe, it's cheap, cheerful and will also make a great Christmas present for friends and family.
Fionnuala's Festive Shortbread
Makes about 40 \50 biscuits depending on the size of your cutter I use a small cup or glass to cut them out.

1lb 4oz of butter or margarine
10oz of castor sugar
1lb 9oz of plain flour
5oz of cornflour.
Method
Cream butter and sugar until light in colour and fluffy.
Sieve flour and corn together and slowly add to butter and sugar.
When well combined place in fridge to chill foe 30mins.
Roll out in thirds to thickness required place on a grease proof baking tray and bake at 150 for 30mins.
When cooked placed on a wire cooling rack and sprinkle with castor sugar. Voila!