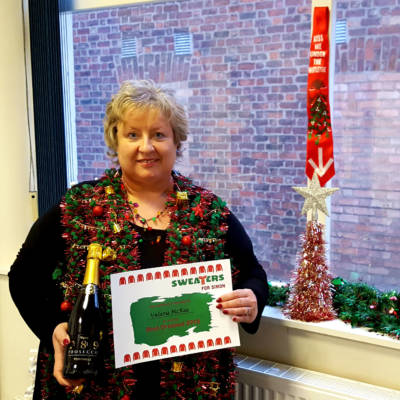 Please give an outline of your career to date.
After school, I worked in the Northern Bank in Ballyholme but I had always wanted to travel so I left and went to work in Libya as a nanny for a year before joining the Civil Service and ending in Israel. When I returned to London and got a "serious job" in Abbey National, I eventually progressed to an Internal Auditor position. I loved this job as it gave me an opportunity to travel within the UK. and after 6 years, I returned to Belfast and took a break to raise my 3 children.
In 1997, I saw an advert for a P/T Bookkeeper based in Simon Community's Saintfield Road accommodation project. The project had just opened and everyone was excited to be part of it. I remember our first client and he was given the choice of any room he liked. He picked the room with a lovely bay window at the front of the building with a lovely view. I went on to spend 9 years at Saintfield Road. There were many highs and lows, but I had a feeling of self-worth and felt I was doing a worthwhile job.
I then decided to go full time with the charity and secured a position in the Finance Department as a Finance Officer. I'm still there now, currently spending three days in the Finance team and the other two supporting the Property Department.
What led you to your role with the charity?
I feel it is a basic human right to have a home and when I spotted the job advert, I saw the opportunity to work somewhere that is making a difference and ending homelessness. I know I am only one person but if we all work together we can make a difference.
Describe your role and the work you do?
Currently, I split my time across two departments. In my Finance role, I process Housing Benefit payments, Payroll and Accounts. And in my Property role, I help staff identify and report property repairs as required, ensuring that hostels are maintained at a high standard for our clients.
What's been the best and most challenging aspects of your job?
The best aspect of my job is knowing that whatever you do within the Simon Community it is going to help our clients. Back in the early days we were not computerised, so all processes were done manually. When we did become computerised, I had to learn new systems that I eventually managed, now that was challenging at the time!
Why is this work important to you?
I will never forget my first Christmas working for the Simon Community. I left the hostel on Christmas Eve to have a lovely Christmas with my family. I left behind 16 & 17 year olds with no families to care for them. It was heart breaking. Christmas really brings out the kindness in people. We had lots of donations of food, presents and people giving their time to cook a lovely Christmas dinner.
People tend to stereotype people experiencing homelessness. They see elderly men, maybe drunk, lying in a doorway. There is so much more to homelessness. People are homeless in all walks of life, through no fault of their own, and many try to hide it. Unfortunately, we see this all too often.