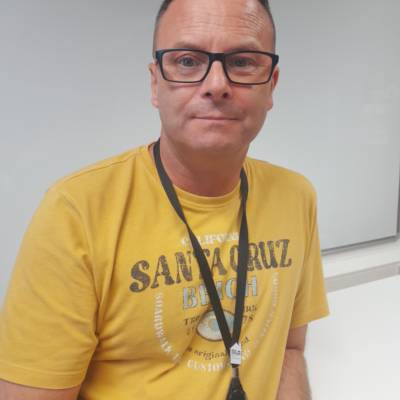 Please give an outline of your career to date.
I started working at Simon Community during the pandemic as a Concierge. Initially based at the charity's Derry project for a year I then moved to a banking staff roll that allowed me to cover shifts throughout the organisation. After a year, I applied for the position of Support Worker in Lodge Road, Coleraine, transferred back to the charity's Derry project and most recently, joined the Belfast Foyer team on a temporary basis to help support 18–24-year-old clients.
Now back with my team in Derry, I have taken on the role of Wellbeing Champion. As one of the only male champions in the group, I hope to provide a male perspective on Health & Wellbeing initiatives at the charity while being a contact point for anyone looking to have men's health championed.

What led you to your role with the charity?
I had previously worked in Hospitality for 35 years managing various bars, restaurants, and hotels and this work stopped during the pandemic. I have always had an interest in the health and social care sector and was unsure of how to progress into it after working in hospitality for so long.
When I saw the concierge position advertised, I thought it would be an opportunity to finally do what I wanted to do. The pandemic was horrendous, however for me it gave me the chance to move jobs and finally make a decision that I would never have done.
I progressed to support worker and enrolled in courses relevant to the sector. As lockdown ended, I had the opportunity to go back to hospitality but choose to stay at Simon Community. I would never have made the move after 35years in the same role if this opportunity had come up and I have not looked back.

Describe your role and the work you do?
I support and look after our clients in our Derry service, which has 33 clients over two units -16 beds in our complex needs service in Bonds Hill and 17 self-contained flats in our Melrose Terrace unit.
I support and look after the wellbeing of clients, assisting them to move into their own tenancy in the community while helping them gain the skills to live independently again. No two days are the same and I enjoy with external stakeholders as this has given me new skills.
What's been the best and most challenging aspects of your job?

No doubt working through the pandemic, but I was proud I was able to continue working and support our charity's clients during this period. It was challenging at times as we were worried about COVID, however we were flexible and had adapted our services so that we could continue to work with clients in line with the guidelines at the time. It was rewarding as we kept our services open and continued to support the most vulnerable in our society.
Why is this work important to you?

I am very passionate about supporting some of the most vulnerable in our society and ending homeless. This is in line with my own values. Our clients are so disadvantaged, and I believe it is important to support and advocate for them upholding their human rights.
How do you relax outside of work?

I enjoy the company of my friends and go on holidays to relax; I enjoy spending time with my grandchildren.
What has been your proudest moment, so far, at Simon?

My proudest moment so far has been reflecting on my own move to the organisation and my development as a support worker. I choose to make this my career after 35 years in another sector. I am proud to say that I work for the organisation .
What advice would you give to people considering a similar career path?

Definitely, if you feel this is the career path for you then give it a go!
Even join as bank staff or volunteer to begin with. The organisation has been supportive in my development with them.
Interested in a career with Simon Community NI? Click here to view our current opportunities and to apply.