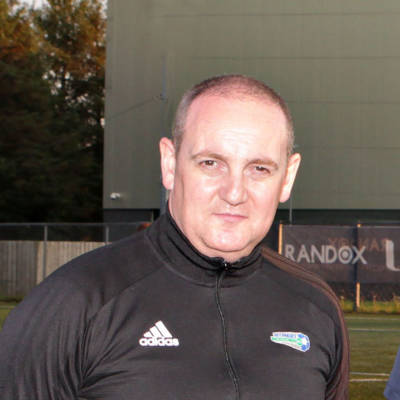 Please give an outline of your career to date.
At 17 I moved to England to work as an aircraft engineer. I progressed within this role and became a supervisor, but I returned to Northern Ireland in 2005. On my return, I worked for a local bookmaker and then in a variety of security roles which involved leading a team on a local university campus to set security on Game of Thrones.
In 2014 I took up my first role with Simon Community NI as an Apprentice Support Worker.
What led you to your role with Simon Community?
I was doing seasonal work for Game of Thrones, 6 or 7 months a year, when I saw the position of Apprentice Support Worker advertised with Simon Community. I was 40 years old at the time and thought I was perhaps too old but also remembered that in one way or another I had been helping people throughout my previous positions. I worked with the United Nations in the former Republic of Yugoslavia, during the war in the Balkans. I'd supported students who were in crisis due to alcohol or exam stress and I've a lot of customer service experience. I thought why not, so I applied.
In relation to the confidence and experience I've gained at Simon Community; I've found this role priceless. As an apprentice support worker I was able to build up my CV to meet criteria for a full-time Accommodation & Community Support Worker position and was luckily placed in the charity's Lodge Road project based in Coleraine, where I have happily remained.
What does a typical day entail, and how has this changed as a result of Covid-19?
A typical day starts off with tasks such as a staff handover, health and safety checks, and other various housekeeping procedures. However, no two days are the same as a Support Worker for Simon Community as you provide tailored support to each client's needs. This support can range from ensuring that the client is accessing the correct benefits to engaging with mental health professionals.
When the first lockdown came into effect, support staff and external services had to scale back the face-to-face support being offered within the project. At times this was frustrating as it held a lot of the clients back in regard to medical and addiction referrals and appointments. Also, move on opportunities where postponed meaning clients ready to move on forced to remain in temporary accommodation until a form of normality resumed. Thankfully, I have returned to working more closely with clients while following covid guidelines.
What are the best and most challenging aspects of your role?
The most challenging aspects of the role can be when clients choose not to engage with the help being offered. On the flip side to this is when a client engages, and you watch the positive changes improving their overall wellbeing, confidence, and situation.
Working with Simon Community has also opened up a lot of opportunities that otherwise wouldn't have been available to me. Opportunities like working with Street Soccer NI.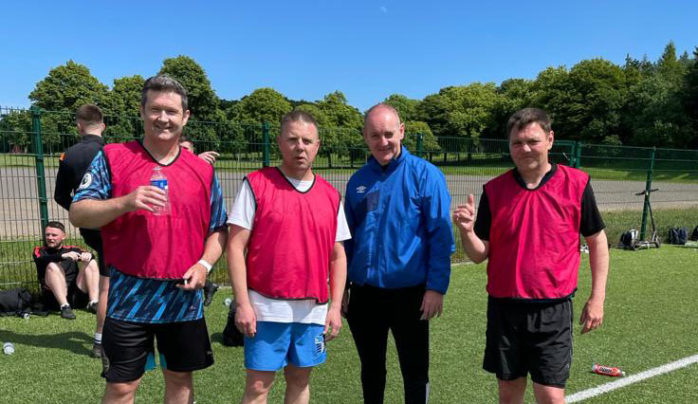 Please outline your partnership with Street Soccer NI, detailing how this relationship benefits Simon Community clients.
My relationship with Street Soccer NI goes back to 2018 when they were looking for players for the World Cup in Mexico. I recently began taking clients from Simon Community's two Coleraine projects to Derry to participate in Street Soccer at the Ulster University's Magee Campus and this led to the offer of becoming involved with Street Soccer as the Coordinator of a new project in Coleraine, which was given the green light and launched on the 20th July 2021.
This relationship benefits Simon Community clients as they are familiar with me and have an existing level of trust, which can remove any participation barriers for them. It's fun to see clients move from initial involvement to reattended training as it can have a big effect to an individual's confidence and well-being.
How do you relax outside of work?
Outside of work I relax by going camping, watching football, and coaching at a local Primary School. During the second lockdown I took up metal detecting, which is different but some craic. I also like to relax with my wife via old fashioned movie evenings, walks, and since restrictions eased going out for meals in local restaurants.
Why is what you do important?
What I do is important because the support we provide has the power to make a huge difference to people who are the most marginalised in our society. This is important as it enables and allows us to protect them to a point and ensure they don't get completely overlooked and left behind.
What has been your proudest moment, so far, at Simon Community?
I can't say I've had any proud moments, but rather I have had many satisfying and pleasing moments for the clients. When they've made themselves proud by achieving what they set out to do. From positively and consistently engaging with other services, to abstaining from substances, even if only for a short time, and seeing them being able to get in contact with their children.
It is also a good feeling when an ex-client gets in touch to let the team know things are going well with their new tenancy and with everything else in their lives.
What advice would you give to people considering a similar career path?
I would advise anyone considering a similar career path that the role is a very rewarding one. Anyone joining will have a lot of positive and challenging experiences and my advice is to embrace them fully as they will help you learn a lot about yourself and others, which will help you grow as a support worker and a person. Give it a go for the life experience and desire to help other people. This will shine through more than a lot of qualifications that looks impressive on paper.