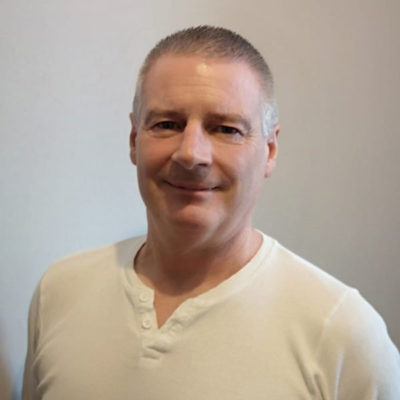 Please give an outline of your career to date.
After leaving school, I worked in the building trade as a joiner and a roofer. I moved to London in 1988 when I was 19 and worked on building sites for a couple of years before looking for more fulfilling employment and becoming a support worker at a long stay hospital run by the NHS. I eventually worked my way up to manager as the service merged with a charity. I have also completed a course in social science, psychology, sociology, and social policy at Goldsmiths college and gained a certificate in management studies. After living in London for 20 years, I returned to Belfast in 2007.
What led you to your role with Simon Community?
Returning from London, I took a year off and worked for a Nursing & Domiciliary Care Agency and, through that, was allocated shifts in the Falls Road and Cliftonville Avenue projects. I continued to work for the agency until a full-time job became available. I was successful with my application and joined the team at Cliftonville Avenue and have been there ever since.
What does a typical day entail, and how has this changed as a result of Covid-19?
Every day is an adventure and no two are the same. I start with a handover and list of tasks for the day, which are allocated to staff on duty. We could be helping people with anything from housing needs and addictions to mental health and accessing the right benefits.
The COVID-19 restrictions have made interacting with clients more of a challenge. I used to go to a café with some for a chat and supported others to use a local gym each week but this has not been possible due to Covid. 
What are the best and most challenging aspects of your role?
The best aspects of the job are when you see people get themselves back on track. It can be any milestone from getting rehoused, finding employment or receiving the right addictions or mental health support. The most challenging aspects of the job are trying to motivate someone who finds it difficult to accept the support available that day. It can drain the energy from you when you seem to be going round in circles and that's when the help and advice of your colleagues is beneficial. 
How do you relax outside of work?
I relax outside of work by taking my dog up Divis Mountain or, in normal times, by going to the gym. I also like the social aspect of going to the pub for a few pints and enjoy a good meal at a nice restaurant with my wife. Holidays abroad are also a nice way to switch off from work and recharge as are seasonal fishing trips.
Why is what you do important?
I feel that what I do is important as the most marginalised and disadvantaged people in society often get overlooked and in the worst cases can fall victim to forms of abuse.
My job provides a safety net and a point of contact that a lot of people would not have access to. There's a lot to be said for the power of a friendly face and kind word, which may not seem like much but could be the difference between life and death for someone who is at their lowest point.
What has been your proudest moment, so far, at Simon Community?
There isn't really one proud moment, there are lots of them. Every time a client or ex-client lets you know that they are doing well and thanks you for the support they received makes it all worthwhile.
What advice would you give to people considering a similar career path?
The best advice I could give someone starting this career path is that it can be a very rewarding job but always expect the unexpected. There will be ups and downs, but the advantages outweigh the disadvantages and I've been here for 10 years with no plans to leave anytime soon, so it's a job that has real longevity and purpose.