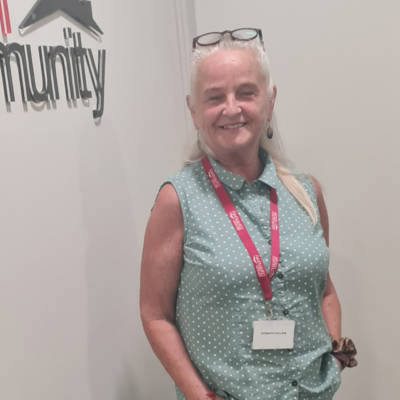 Please give an outline of your career to date.
I have been living and working in NI for 27 years. In 1996 I worked with Women's Research & Development agency, working with women's groups developing cross community projects focused on inclusion and Peacebuilding. In 2002 I was regional trainer for Women's Aid, delivering awareness training on Domestic violence to statutory and voluntary agencies. In 2007 I was learning and development manager for Victim Support, developing Induction training and other relevant training for staff and volunteers supporting victims of crime, I also developed and delivered training to the Criminal Justice Agencies.
What lead you to your role with the charity?
I was with Victim Support for 10 years and wanted an opportunity to broaden my awareness into the area of homelessness, I have always worked in the voluntary sector, I find the work so worthwhile and rewarding.
Describe your role and the work you do?
I am responsible for ensuring that all staff have the relevant training to support their work as accommodation support workers. I work closely with HR to provide induction for all new staff coming to work with Simon Community. I lead on the Health & Wellbeing for staff initiative, which recognises the impact the work can have on staff members and focusses on their resilience and overall wellbeing.
What's been the best and most challenging aspects of your job?
The best part is getting to know new staff at the induction stage, listening to their enthusiasm for working with people experiencing homelessness and watching them grow. I really enjoying meeting the staff that have been here longer than me and hearing all their stories of how the organisation has grown and changed with the times.
Why is this work important to you?
We work with a very vulnerable population; it is important that the stigma surrounding homelessness is challenged, and we become advocates on behalf of our clients. Training is a doorway to understanding and developing our practice to help provide the best service to those who we support.
I believe that homelessness can be prevented with the right interventions at an earlier stage in peoples lives.
How do you relax outside of work?
Spending time in nature, watching Sci-Fi programmes and movies, playing with my grandchildren.
What has been your proudest moment, so far, at Simon?
Receiving the Belfast Telegraph award for Health & Wellbeing project at work, unfortunately it was during Lockdown so no gala ball, but a proud moment anyway!
What advice would you give to people considering a similar career path?
Training is a wonderful way to get to know people, it is really satisfying watching people learn new skills and then see them putting them into practice, it is a role that gives a lot. When I can secure a course for someone or read a positive evaluation from a workshop that really meant something to the learner, that gives me purpose.
Interested in starting your journey with Simon Community NI? Click here to view our current opportunities and to apply.