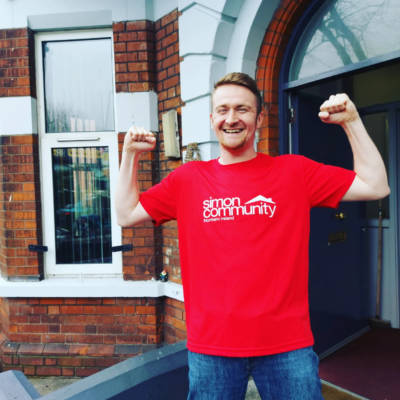 Emmett, an Accommodation based Support Worker at 414 Falls Road will be running in the 2022 Belfast Marathon, we are so thankful for his efforts of raising over £400 in aid of Simon Community. To read more and donate to his ask click here.
Please give an outline of your career to date.

I previously worked for Simon Community from January 2018 until December 2020 before moving to England for a few months. Upon my return to Belfast I was very fortunate to resume working at Simon Community 414 and in March 2020 at the Annual Chairman's awards, I received the Support Worker of the year award.
What led you to your role with the charity?
I have always wanted a job that encompassed giving hands on support to vulnerable individuals and my role as a support worker has allowed me to do this by helping clients with their positive move on to independent living, as well as helping them with other aspects of their lives
Describe your role and the work you do?
As a support worker my main role is to help clients get a positive move on from temporary accommodation be that through social housing placement or private rental.
I also support clients through a range of sensitive and complex issues such as alcohol and substance misuse, mental and physical health as well as emotional trauma. The project that I am based at is staffed 24/7, meaning someone is always on hand to provide adequate help and support to clients
What's been the best and most challenging aspects of your job?
The most challenging aspect of my job is definitely having to deal with extremely traumatic incidents that involve our clients. However the best aspect of the job comes through making real significant and positive changes to the lives of the people I am lucky enough to support.
Why is this work important to you?
I believe it is important to help others, as becoming homeless is a real life issue that can affect any of us at any time.
How do you relax outside of work?
I enjoy exercising regularly including lifting weights, running and I do yoga every day. I enjoy meditating am an avid reader.
What has been your proudest moment, so far, at Simon?
My proudest moment was when I received the Support Worker of the year award.
What advice would you give to people considering a similar career path?
It can be challenging at times but stay patient and positive and this job can be an immensely rewarding one.