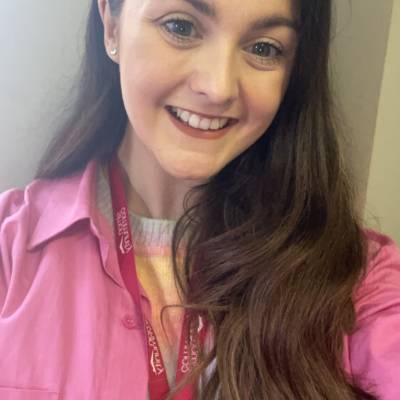 Please give an outline of your career to date.
Going through school, I was never really sure what I wanted to do but always knew I wanted to work with people and try to help people in some way. I went on to study Psychology in Ulster University and within this completed a placement year with Dublin Simon Community working on their Outreach and Harm Reduction Team. This opened my eyes further to the need for mental health and substance use services and I knew that this was the route I wanted to take. After I completed my undergraduate degree, I wasn't sure whether to go for further study or apply for jobs, so I did both. I applied for a Support Worker role within the Lisburn Simon Community and was successful and I completed a Masters in Applied Psychology, Mental Health and Psychological Therapies part-time alongside work. I completed my Masters in August 2021 and the position of Wellbeing Practitioner became available around this time so I applied and got the job! I am currently covering the areas of Ballymena, Larne and Cliftonville Avenue.
What lead you to your role with the charity?
As mentioned above, I had worked with Dublin Simon Community and this is where my passion for mental health, addiction and wellbeing really started to evolve. I wanted to work within an organisation that accepted everyone for who they are and supported them with what they needed. Simon Community for me was always recognised as being a non-judgemental, respectful organisation and this encouraged me to work with them.

Describe your role and the work you do?
In my current role as a Wellbeing Practitioner, I work with clients mostly on a 1-to-1 basis using therapeutic interventions to help address their needs. Generally, the clients I work with are dual diagnosis meaning they have an addiction and a mental health diagnosis. These needs vary from anxiety, depression, suicidal behaviours, trauma, alcohol use and substance use to name a few. I help clients in managing their symptoms, developing healthier coping strategies and engaging with statutory services. The role is diverse and no two days are the same.
What's been the best and most challenging aspects of your job?
The best part of my job is definitely seeing the change in clients from we first meet them and seeing the positive changes that they make for themselves. This is so rewarding and it one of the best feelings. Another great element of the job is clients saying 'thank you'. Often we forget we are even working, but to know you have made a difference to someone's day or their outlook is great. It's the small wins in everyday that we appreciate!
Every job has its challenges but with this role that most challenging aspect is seeing individuals who do not want to accept support or who are so traumatised by their current situation that they deteriorate mentally and emotionally. For someone experiencing homelessness, it can be a very stigmatising situation to be in and people feel the consequences of this. It can be challenging to help people see that there is hope and a light at the end of the tunnel or to help them see they are important and they matter but when we overcome that obstacle, it is fantastic.
Why is this work important to you?
This work is important to me as I believe that when people are down, as humans we need to help lift them up. Sometimes, there is a stigmatising nature surrounding homelessness, mental health and substance use and it is important that people we are supporting feel understood and free from judgement, as this will achieve the best outcomes. My current role is also important as many statutory services focus on either mental health or the substance use/alcohol, and therefore having a service that incorporates both makes it more accessible to those who really need it.
How do you relax outside of work?
In the jobs we work, self-care is so important. Outside of work I enjoy catching up with my friends, visiting my grandparents, spending time with my family and my boyfriend. I enjoy the simple things like going for a long walk, getting a nice coffee or food and spending time with my dogs. After a busy day, it can be difficult to unwind so I always make sure I have music on for the drive home as it is so important to me to have the work-life balance.
What has been your proudest moment, so far, at Simon?
There have been so many – we appreciate the small moments every day and being thanked and acknowledged for the work we do always makes me proud. Also, seeing clients we have worked with making positive changes to their life and taking the next steps on their journey is always so rewarding to see.
On a personal level, my proudest moments would be being nominated for 'Learner of the Year' at SCNI annual conference after only 6 months in my support worker role and more recently the Wellbeing Team winning the 'Excellence in Health and Wellbeing' award at the All Ireland Housing Awards 2022.
What advice would you give to people considering a similar career path?
Definitely go for it. In this career, you get the opportunity to meet with and work with such a variety of people and you get to develop your skills to an extremely high level and you are continuously learning and developing personally and professionally. No two days are the same and the role is equally challenging and rewarding. The job isn't always easy but it is always worthwhile!