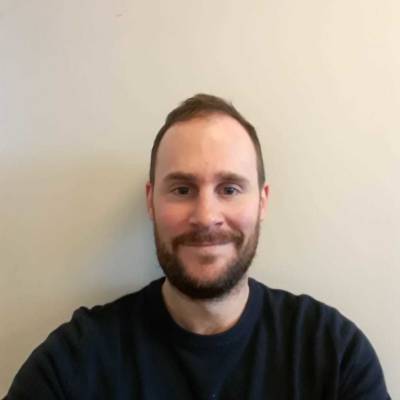 Please give an outline of your career to date.
I have worked in homelessness services for 10+ years, in Belfast. I began my career as a support worker in a high-tolerance/low-threshold service working primarily with adults who were street-homeless and had complex needs. Eventually I moved into a management role in this service, before joining the Simon Community as Youth Outreach Services Manager.
Prior to working in homelessness services, I worked in the hospitality sector – believe it or not this was good preparation for life in homelessness services. People skills are key in both!
What led you to your role with the charity?
I took a career-break to travel during 2018-19, and when I returned I knew I wanted fairly quickly to resume working in the voluntary sector. I of course was very familiar with the Simon Community via my previous roles, and was looking for an opportunity within the sector in services that are progressive and exciting, with development opportunities. Youth Outreach Services certainly met those criteria for me, and here I am today!
Describe your role and the work you do?
As a service manager I see my role as primarily being one that ensures that services are functioning as they are required to, particularly for those availing of them – in my case highly vulnerable young people who need a lot of support. For this to happen I have to ensure that support staff are given the tools required and are supported to do their jobs to the best of their ability, and that we hold ourselves collectively to high standards in everything we do – from engaging directly with young people to record-making and communicating with partner agencies.
At Housing First For Youth, I oversee a dynamic and intensive service which provides support to young people aged 16 and above, living alone in the community, in Belfast. All of our young people have come to our service via the care system, and their needs are generally complex and high-level. The support we offer is 24/7, holistic, intensive and progressive. The challenge for me on a daily basis is to ensure our support team are delivering this type of support both safely and appropriately, and achieving outcomes for our young people – helping them to become more confident and self-sufficient as they move from childhood to young adulthood, and supporting them to foster and develop a positive community of peers and resources around them. To do this we need effective organisation and structures, good communication, and a highly committed and energetic team of support workers. Thankfully this is exactly what we have!
My role as service manager is very diverse, and on a daily basis I will have a range of issues, big and small, to address. Too many to list here! But really it's all geared towards maintaining standards, ensuring safe delivery of service to our young people and developing the service so we can continue to meet any challenges moving forward.
What's been the best and most challenging aspects of your job?
For me the best and most challenging aspects are often the same – 'nothing worth doing comes easy' and all that! Really there is nothing better than seeing a young person progress as they receive support from the service – this can be big things like getting a job or passing their driving test, to small things such as preparing a meal for the first time. A lot of work goes into achieving these outcomes. As a manager, seeing staff members progress and develop in their confidence and abilities is also really rewarding.
In my role, I don't get to spend as much time with our young people as I might like to – but when I do these are often the best moments in the job. They keep me young! At the same time, seeing a young person or staff member struggle or suffer - as they sometimes will is always challenging. In those moments you just have to redouble your efforts and trust that the work we are doing will help pull them through it.
Why is this work important to you?
Many people in life don't get a fair deal. I always wanted to find work that was able, even in some small way, to help address this, and definitely felt I found this when I began working in homelessness services. Now that I work in homelessness prevention services for young people with Simon Community, this feeling is even more pronounced. The young people we support at Housing First For Youth are so often so disadvantaged from a very young age, but their resilience is pretty remarkable. I've always considered it a privilege to be in a position whereby just through doing my job, and doing it well, I can help give people the chance to improve their circumstances, to recover, and move forward in life so that their past difficulties and traumas don't define their futures.
How do you relax outside of work?
Most people who know me would tell you I'm pretty good at this! My main interests are sport, music (though I cant play a note), reading and travelling. I like to spend time with family and friends, I enjoy a good long walk with the dog. I love to socialise and enjoy the company of others and the craic. So nothing too special, but it keeps me happy!
What has been your proudest moment, so far, at Simon?
The young people supported by Housing First For Youth last year provided some anonymous feedback to an independent evaluator, about the support they receive from our team. They were as honest and forthright as I had expected, but they said some truly lovely things about our team, what we do, and the at times life-saving impact that being supported by us has had on them. I would say reading that feedback was the proudest moment I've had to date.
What advice would you give to people considering a similar career path?
Firstly, that you have to want to do this work. You cant be 'half-in, half-out' if you are working with homeless and/or vulnerable people – the work is too demanding and too important for that. So go for it, and give it your all.
Secondly – believe in yourself. A career in this line of work is a steep learning curve - you'll make mistakes, sometimes you might feel overwhelmed or 'not cut out for it' – but if you know your motivation for doing it, stay true to it, and are willing to learn and bounce back form a tough day, you'll get better and better at what you do.
Thirdly – don't forget to look after yourself. Remember your boundaries and be realistic in your expectations of what you can and can't affect. And make sure you notice the small victories!
If you do all of that, I can honestly say that there is no more rewarding way to earn a living.
Interested in starting your journey with Simon Community NI? Click here to view our current opportunities and to apply.