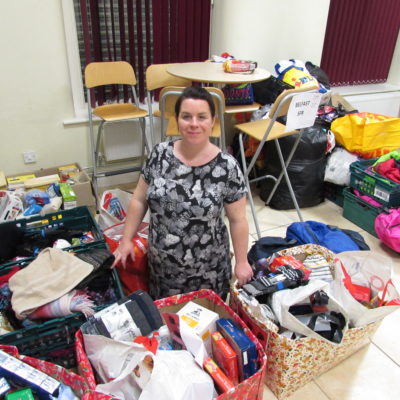 Give a brief outline of your career to date.
I initially began working for the Simon Community NI as a volunteer for a period of 6 months. Whilst undertaking this role, a position for Support Worker became available and I applied for the post and was successful. I then progressed to Team Leader. My current position is an Accommodation Manager with responsibility for both Saintfield Road and Lisburn projects.
Did you avail of further/ higher education, if so what did you study and where?
I commenced a degree in Geography in Queens University however, I left this course after 18 months. I then went to Belfast Met and completed a HND in Care Practice. It was through this course that I got interested in homelessness. Whilst completing my HND course I managed to attain a placement with the Simon Community NI working in young people's accommodation. This then led to me to begin volunteering for the Simon Community NI once I had completed my placement.
Were there any particular essential qualifications or experience needed?
In order for me to commence employment with the Simon Community I needed to have GCSEs and experience of working in the care sector.
Are there alternative routes into the job?
We currently have an Entry Level route which allows individuals who have limited experience, but who are interested in pursuing a career in the industry, to gain the experience that they need by being mentored and supported by experienced Support Workers and Team Leaders within the Simon Community NI. Alternatively, you can still gain employment with the Simon Community NI through the route which I took. We are keen to develop our staff to enable them to further their career within the Simon Community. Many of our managers started off as a Support worker.
What are the main personal skills your job requires?
The main skills that my position requires are listening, interpersonal skills, communication and empathy.
What does a typical day entail?
Every day is different as we work with people whose needs change from day to day. My day begins with a handover with staff. I then prioritise what tasks need to be completed throughout that day to ensure that clients are receiving the support which they require. As Accommodation Manager my day may also consist of supervision with support staff or team leaders and leading staff to complete tasks to support clients that they are responsible for.
What are the best and most challenging aspects of the job?
The best aspect of the job is seeing the clients accomplish their goals that they set for themselves. The most challenging aspect can be seeing a client in distress and who is feeling unable to see a way forward through their current position. However, we always have support staff on site to support clients through this period.
Why is what you do important?
It is important for our clients as our goal is to end homelessness and if we can achieve that for one person then we are winning.
What advice would you give anyone looking to follow a similar career path?
The best advice I can give anyone who is seriously considering a similar career path is to think carefully that this is the path you wish to take as it can sometimes be the hardest of jobs mentally. Similarly, it is the most rewarding of jobs especially when you see one person achieve a personal goal!
What is the one piece of advice you would give to yourself on your first day?
The one piece of advice that I would give to myself would be to be realistic about what homelessness is and to be aware of my own strengths and weaknesses.
And finally, what's the key to any successful job search?
The key to any successful job search is to ensure that you are prepared and that you are open to new challenges.

Frances Black – Accommodation Manager at Simon Community NI