| | | | |
| --- | --- | --- | --- |
| Serves 10 | Freezable | Easy | Cooking time 20 - 25 mins |
The everyday fish finger can take on a new lease of life when you make them yourself and even more so if you go jumbo size.
We've used cod for this recipe, but other fish varieties work just as well.
Tip: Check the reduced to clear shelf at your local supermarket or shop, you may be able to get a great deal on fish that is approaching its sell by date.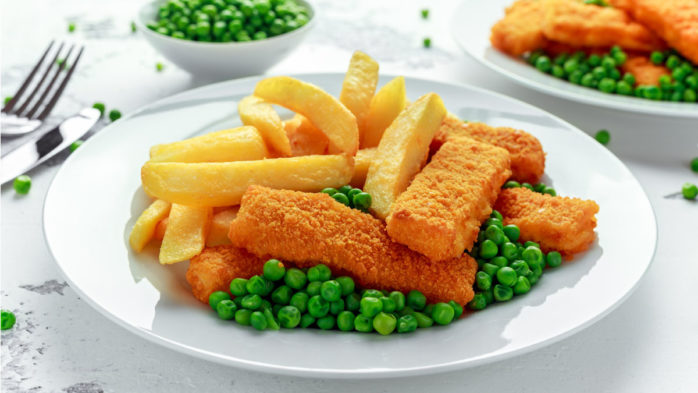 Ingredients
1 x 2 kg of cod fillets (or your fish of choice)
2 large free-range eggs
250 g wholemeal or white bread
Olive oil (other cooking oils work just as well)
A pinch of salt and pepper
Method
Cut the fish into 10 x 120g portions - Don't worry about being too precise, the uneven shape of the fish will add to the handmade charm. 
Whisk the eggs with the salt and black pepper together in a bowl, then place to the side.
Tear your bread into a food processor, add 2 tablespoons of oil and whiz until you have breadcrumbs. Tip: If you don't have a food processor you can simply great your bread instead. This works even better if your bread is slightly stale or has been kept in the freezer, and is a great way to use up left over bread that would otherwise be thrown out.
Coat each portion of fish in the egg mixture, let any excess drip off, then cover in the breadcrumbs. Transfer to a baking tray lined with grease-proof paper. Tip: Don't have grease-proof paper? A little butter or oil over the tray will work well too.
To cook, place your jumbo fish fingers into the oven at 200°C/400°F/gas 6 for 15 minutes from fresh, 20 minutes from frozen or until thoroughly cooked through.
Tip: If you're not cooking the fish fingers straight away, pop them into a tub or sandwich bags and freeze for later.
Serve with chips/mash potato and mushy peas and enjoy this tasty, budget friendly meal!