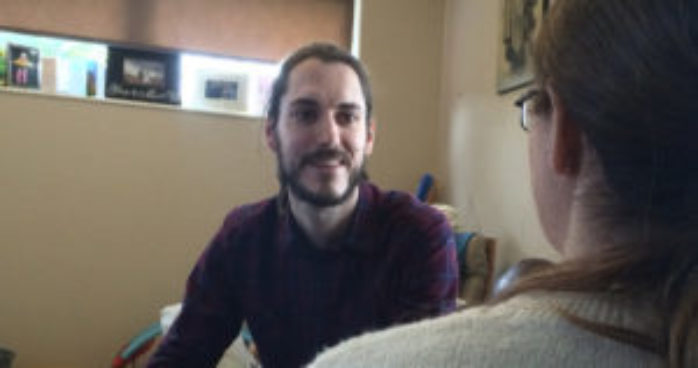 Daniel Saunders and Derek McParland are Floating Support Workers for Simon Community NI. They work with people at risk of or experiencing homelessness, managing their additional complex needs.
Against a background of around 100,000 people who are homeless in Northern Ireland, Simon Community NI's work extends well beyond the need to assist people in finding temporary accommodation and homes. The link between homelessness and other factors in society, such as family breakdown, addiction and mental health, have been well documented. One facet of their work is to support a range of clients in their local community.
Two of their drug and alcohol outreach workers, Daniel Saunders and Derek McParland, work within the South East Trust area, alongside a range of statutory and voluntary organisations, to help support people with their individual needs. Daniel, who moved from London to study at Queen's University, has had many years' voluntary experience working with people experiencing homelessness. "After I left Queen's I worked as an interior designer but, whereas I enjoyed the creative side of the job, I didn't find it satisfying in the way that I had previously experienced when working with those in need. For me my job is about looking at the person rather than their circumstances." Like Daniel, Derek had experience of volunteering before joining Simon Community NI. "I used to volunteer for The Samaritans which gave me a good grounding for entering a career where my skills and experience could be used to help others to turn their lives around."
No two days are the same for Daniel and Derek, in the way that no two clients are the same. "One of our clients, before we met him, had been living in a tent, surviving on little food and two bottles of whiskey a day, said Derek. "He had little self-worth and confidence, and had given up. The first step in working with our clients, regardless of background or circumstances, is to build up trust. We are able to help people, but trust and communication are the cornerstones of turning lives around.
"Working with other agencies, such as the Community Addiction Team, the Benefits Office and the Housing Executive, and alongside the client, we created a pathway that led him to being able to live independently. At the same time as dealing with his housing needs, we worked together to ensure that he had the right support which enabled him to confront his alcohol addiction. We still maintain regular contact with the client to ensure he always has someone to reach out to."
Not everyone is at the point where they want to readily accept help, as Daniel explains. "We had a disabled, elderly client who was living independently in social housing with addiction issues. It was clear that the client was a danger to himself, but it took months, and many meetings, for us to convince him to accept help.
"As he had no family our aim was to move him to a supported living arrangement and help him to face his addiction issues. Today he is settled into supported accommodation where he has begun to interact with those living around him, and with the help of a local befriending service he is now able to regularly attend a gym, which he really enjoys."
These clients represent only two of the many hundreds of people Simon Community NI supports every day. As they are dealing with some of the most vulnerable people in society not all cases have a positive outcome, but the work of Daniel and Derek, their colleagues and the network of Simon Community NI volunteers and supporters, ensures that when someone needs help, Northern Ireland's leading homelessness charity will be on hand to make a difference each and every day.