Managed IT services provider, Outsource Solutions NI announces year-long charity partnership with Simon Community.
Forming in 2000 and operating across Antrim, Belfast, Cookstown, Dublin & Edinburgh, the Outsource team support businesses across the UK and Europe – growing year on year with a firm commitment in staff investment. One key approach to their promotion of a positive culture is the delivery of staff empowerment through the selection of charity partners each year, which for 2019 will be Simon Community NI after securing the popular vote with staff. 
By choosing Northern Ireland's leading homelessness charity, staff at Outsource will commit to a year of fundraising initiatives to help support the development of Simon Community's 22 temporary accommodation projects, as well as complementary services operating in towns and cities across Northern Ireland. 
Speaking about the partnership, Terry Moore, CEO at Outsource, said:

At Outsource, our staff want to make a difference to people's lives and so I am proud they have overwhelmingly selected the Simon Community as their Charity Partner of the Year 2019. It is said that people are only a few pay cheques away from potentially being homeless, so this is a problem that could affect any of us, our family or our friends.
We believe that homelessness must never be seen as acceptable or be ignored and every one of us should be thankful for charities such as the Simon Community, for their dedication and unrelenting work in this area. As our partner of the year, we look forward to doing our small bit to support their work by getting involved in a range of planned events to raise vital funds to help the charity continue their efforts in tackling this issue.
Delighted to have been chosen as the charity partner of the year, Brian Shanks, Corporate Fundraising Manager at Simon Community NI commented: 
With homelessness on the rise, the role of corporate fundraising is more important than ever. We are delighted that the staff at Outsource recognised the impact we make across Northern Ireland in responding to, and ending homelessness, and we look forward to working with the company's two charity champions to develop fun ways for staff to get involved and raise vital funds for some of the most vulnerable in our society.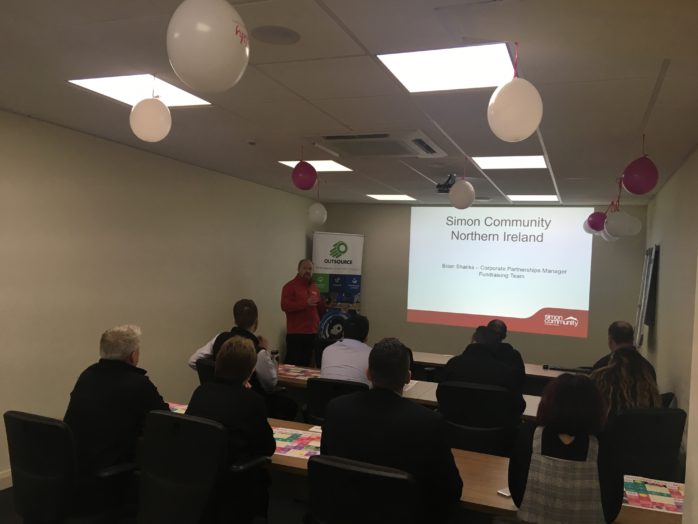 To learn more about how Simon can support your company's fundraising plans or to invite a speaker to your next workplace event, contact our fundraising team on Fundraise@simoncommunity.org or call 028 9023 2882.