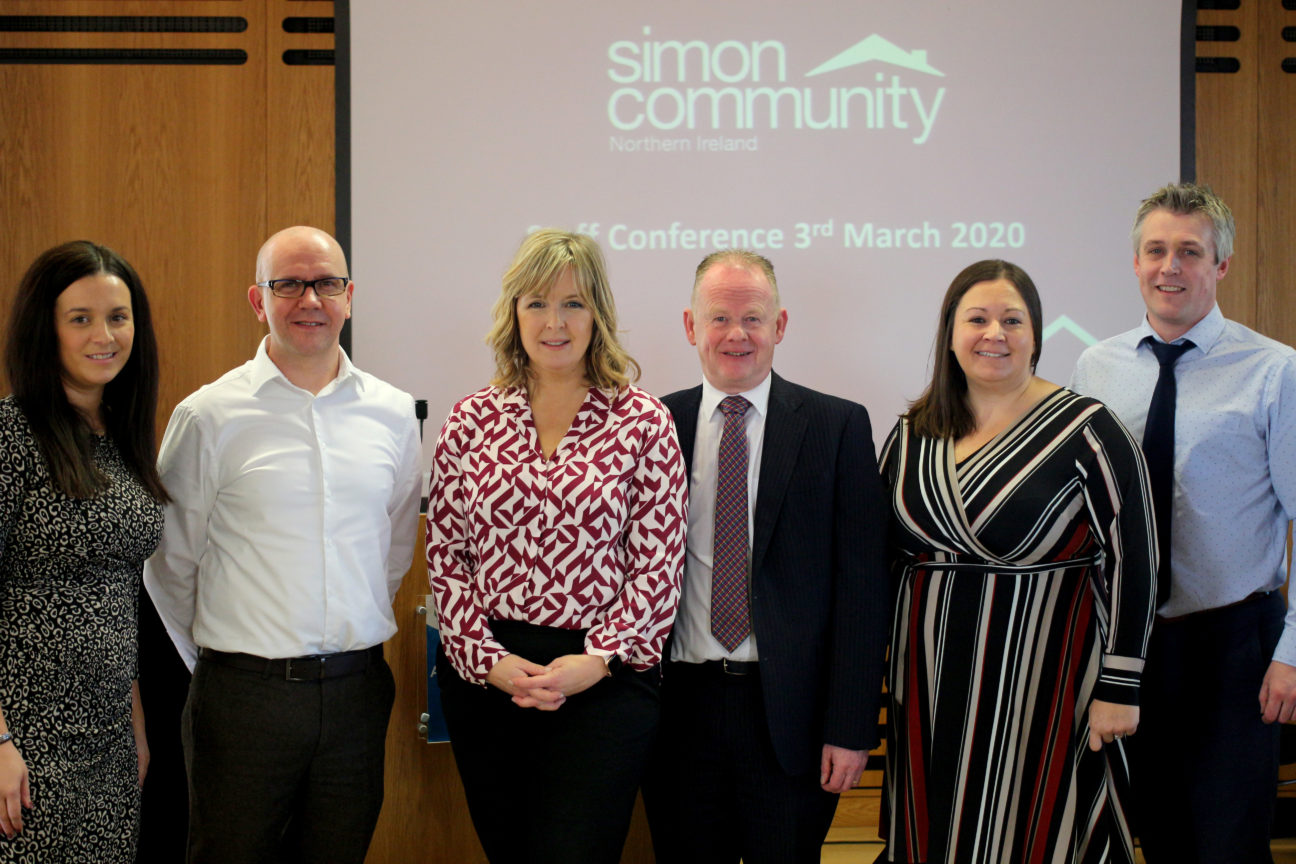 Bringing together staff from across 21 temporary accommodation projects, 9 homelessness services and those working in other vital services and business units of the charity, the 2020 Simon Community staff conference provided an opportunity for colleagues to meet, share best practice and celebrate success.

Facilitated by BBC's Tara Mills, and with thought provoking talks from Keynote speaker Dr. Eoin Galavan, a Senior Clinical and Counselling Psychologist in the HSE North Dublin Adult Mental Health Services, and Evolve, this year's theme was Supporting Each Other.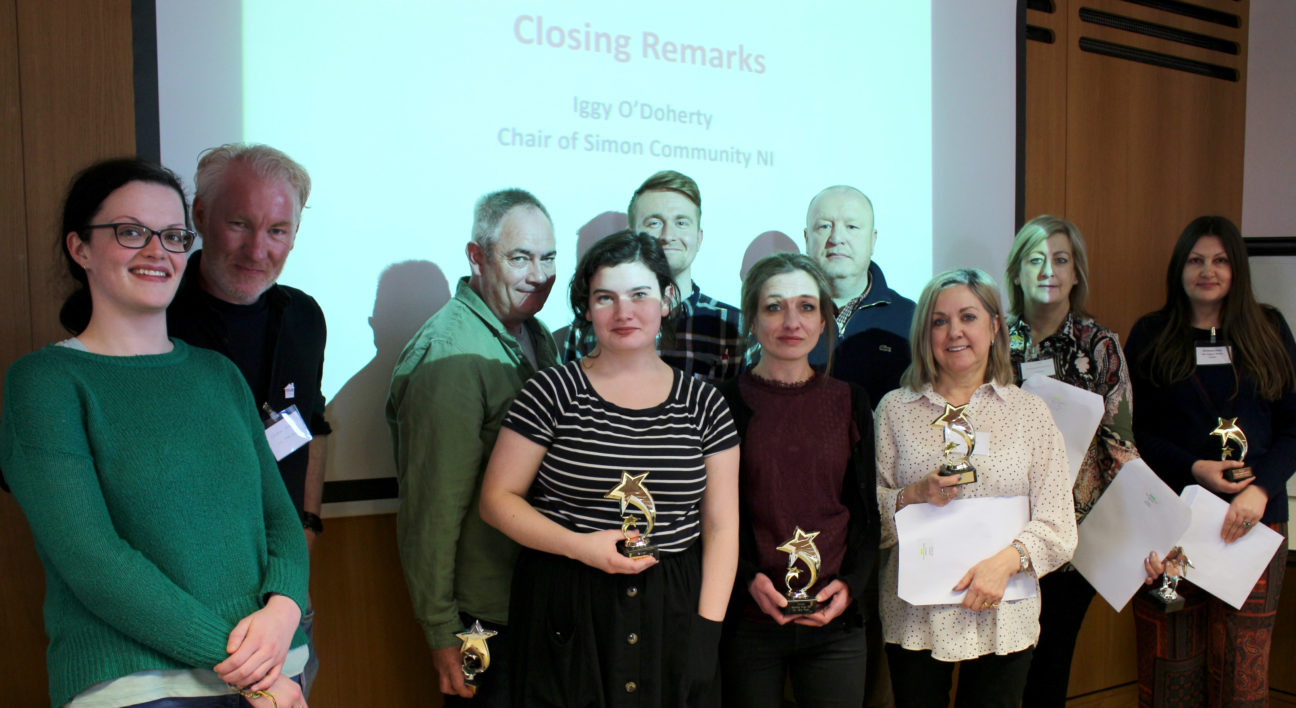 Chairman's Awards 2020

The Chairman's Awards, which are now in their third year, give an opportunity to recognise and celebrate the great work from across the whole organisation over the past 12 months. Keep scrolling to view our winners.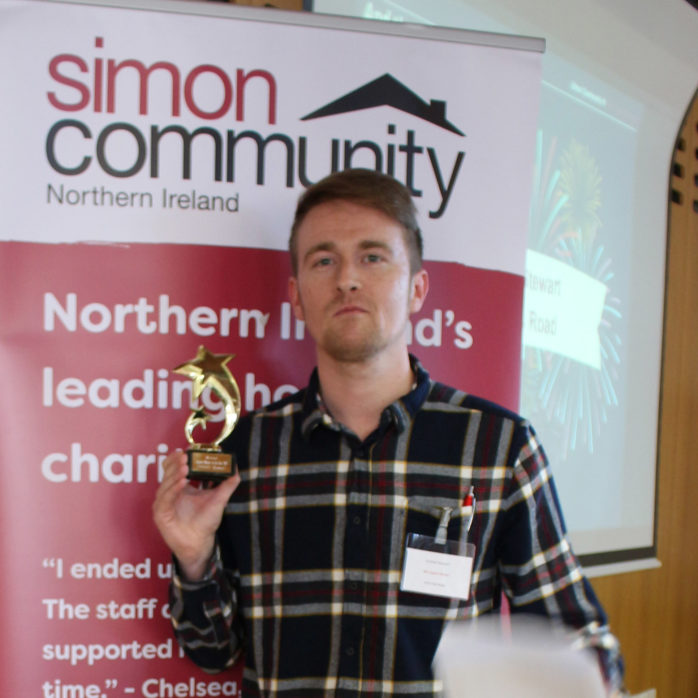 Support Worker of the Year - Emmet Stewart

At 414 Falls Road, colleagues affectionately call him Efficient Emmett and his approach to teamwork and client support has not gone unrecognised.
Everything he does is done with such efficiency. From ensuring that the hostel daily processes are completed to giving his all towards the welfare of the clients is second to none.
His calm approach, humour and honesty brings out the best in those he works with. He is constantly striving to promote the great work of the Simon Community through communicating with other agencies to the betterment of the lives of our clients.
Team of the Year - Ballymena
The team turned a bad situation into a positive outcome for the charity.
Early 2019 was a challenging time for the Ballymena team as they transitioned to a new service. Negative press and social media alongside pressure from the community meant that all eyes were on them as they moved into a new purpose-built accommodation project.
Despite all this, the team carried on regardless to ensure a smooth transition from the old project and have worked hard to end homelessness in the area and show Ballymena and beyond how great they are.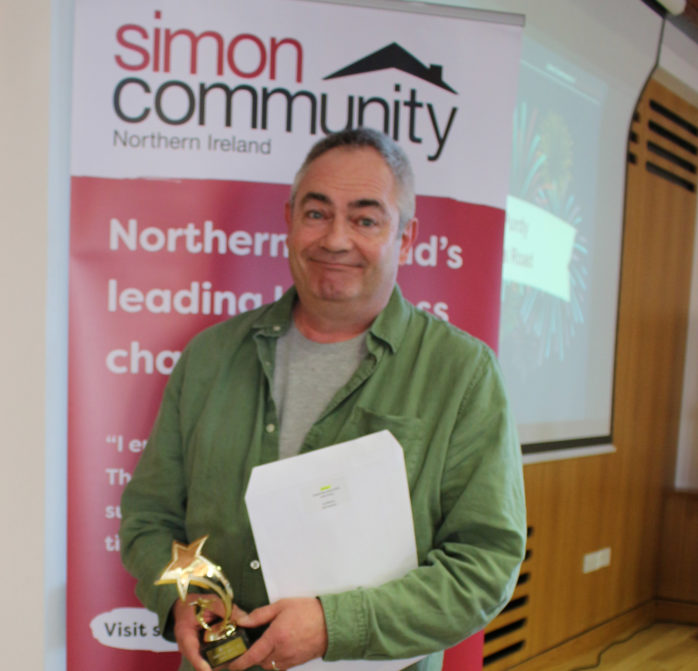 Leadership Award - Colin Purdy

With a laid back but attentive style of management, Colin fitted perfectly within the 414 project when he took over the reins in June 2019.
Noted for his ability to quickly earn the respect of both staff team and residents, Colin integrated himself with every member of the team and simply asked colleagues to support him in providing clients with the best support and the most positive living environment that they could.
Colin also showcased a focus on the welfare of his team and has been totally approachable and understanding of all staff issues or concerns. As team leaders go, his 414 colleagues think he is Champions League material.
Community Engagement Award - Joint Winners Christina Price & Lodge Road

Christina has been part of a craft scheme that was started by an ex-member of staff. This scheme recycles materials to make pictures and decorated bottles with proceeds going to enhancing activities at the Lisburn service.
She has taken it forward and made the scheme a real success. Last year, she organised client's artwork to be part of a local exhibition and sold crafts in the local area, even using her days off to take them to car boot sales and grow awareness about the charity.
Lodge road were focused on fundraising last year, holding a range of events to raise money for the organisation and grow awareness in the local community.
From bucket collections, bag packing, quizzes and band nights, the whole team got involved and made sure that clients were brought along for the journey. Together, they raised an amazing £3000, which will be used to deliver client social activities throughout 2020.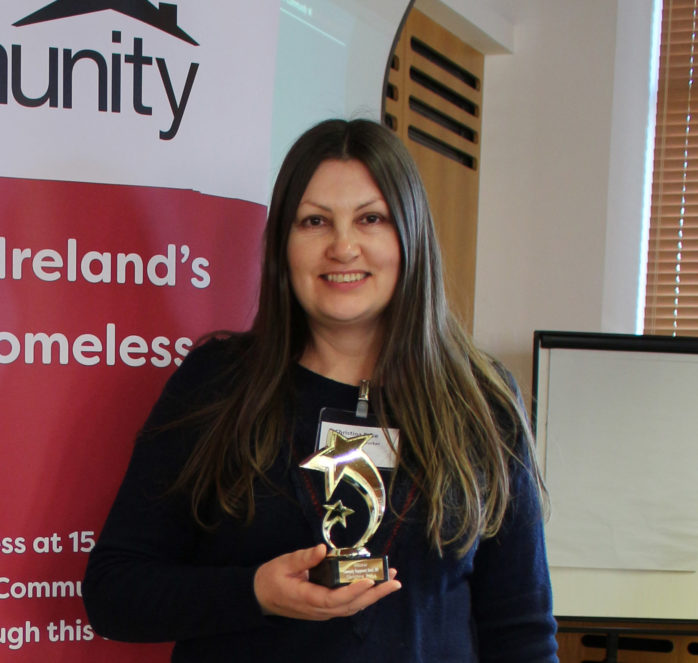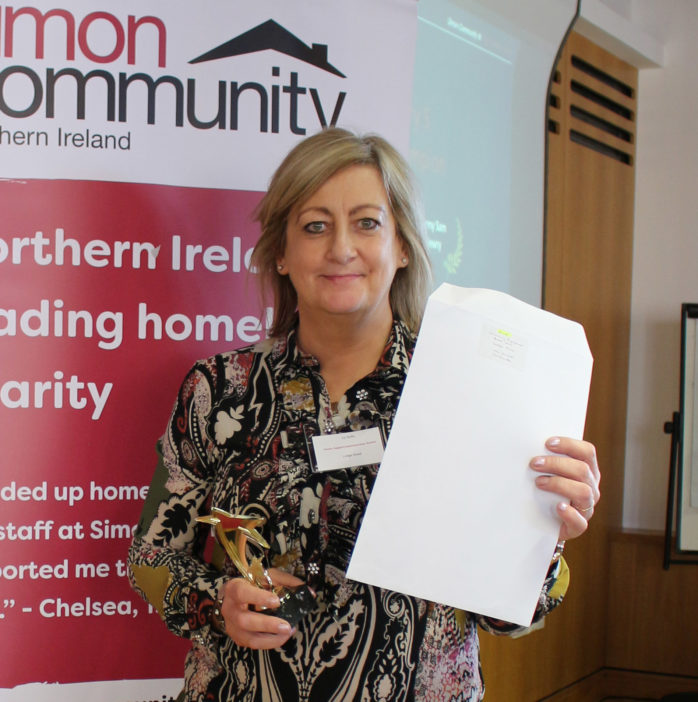 Client Champion Award - Jenny Sam
Jenny Sam at Newry exhibits genuine empathy for each and every client.
She has very pleasant and caring nature, has worked in the Simon for 13 years and is still as committed as ever. Last year, she supported a client with a severe mental illness who, thanks to her, now maintains his own tenancy and phones the service regularly to simply thank her.
She is very humble and unassuming and deserves some recognition.
Innovation into Practice Award - Joint Winners Aisling Devine & Wilma Henderson
An addition to the HOME Team, Aisling has made real tangible changes in North West region in relation to maximising points, securing homelessness status and most importantly leading to housing options being made available to clients.
Aisling holds regular housing clinics on site and since taking up her post in August 2019 has ended homelessness for 17 clients by moving them on successfully to independent living. In addition to staff recognition, the Housing Executive also commend her work ethos. 
Wilma turned the idea of a training space for young people into a reality in the Foyer.
Working over the summer of 2019, a group of young people were involved in the design of a new learning space in the Foyer, this included designing the space, the furniture and the layout.
These ideas alongside support from SCNI IT department, saw the launch of a new learning suite, with 8 computers for young people. At the September 2019 launch event, Wilma welcomed a range of voluntary organisations to the site to celebrate the achievements of young people. These organisations now work in partnership with staff at the Foyer to deliver training and courses for young people.  
Welcoming Project Award - 414 Falls Road
With positive feedback from clients, 414 Falls Road always exhibits a warm and welcoming ambience.
The project helps make people feel welcome and that goes for staff, external agencies and the community as well as clients.
414 put their success down to the caring approach that staff have with everyone who connects with the service.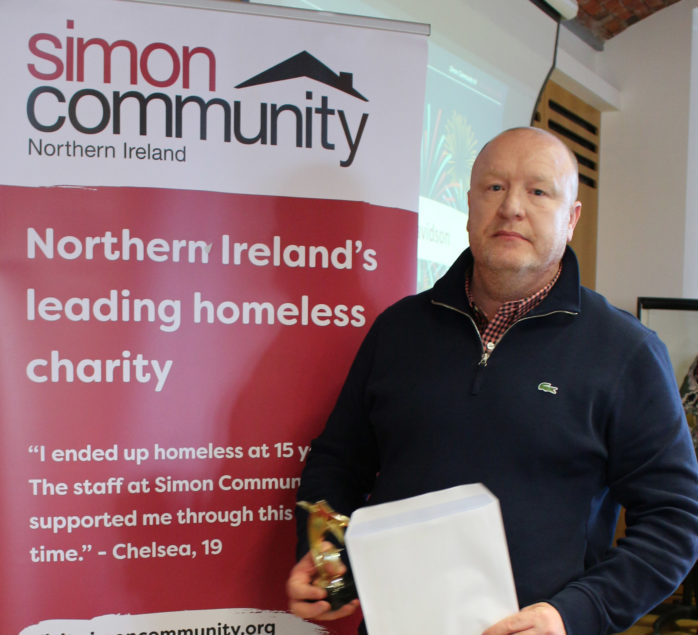 Learner of the Year Award - Gordon Davidson

Gordon has excelled in his role as drug and alcohol worker. He is always keen to learn and grow and shares knowledge with colleagues.
He has done some excellent work this year with alcohol management plans and in getting one client completely free from alcohol. Gordon engages with clients by attending appointments with them and making sure they understand the reason for appointments or treatment.
Gordon advocates on client's behalf and his colleagues look forward to seeing him flourish in his role.
Click on the gallery below to view photos of the Chairman Awards Runners Up and more photos taken on the day.
limitThumbs: