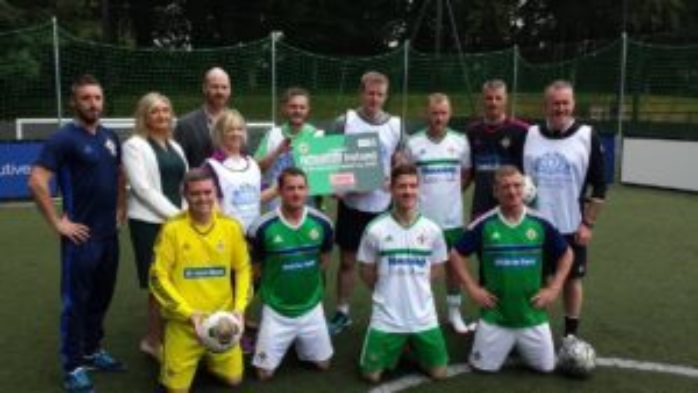 Proud sponsor of the Northern Ireland Homeless World Cup squad 2016, Simon Community NI has an extra interest in the success of the team at this year's Homeless World Cup.
As the team launched its kit at the Pavilion, Stormont on Wednesday, 29th June 2016, three Simon Community residents were gearing up to represent their country, and are hoping to emulate the success of the Northern Ireland Euro 2016 team in France.
Next month, players from 52 countries around the world will assemble in Glasgow to compete in the 2016 Homeless World Cup. The competition, which is in its fourteenth year, has gone from strength to strength and this year will be broadcast live on STV in Scotland.
World-renowned referees will be monitoring proceedings, having volunteered their services to ensure the highest calibre of play and professionalism during the tournament.
Jim Dennison, Simon Community NI CEO, believes involvement in the team will offer participants a once in a lifetime experience, "Street Soccer NI and the Homeless World Cup have offered real opportunities for the future for people experiencing homelessness in Northern Ireland. We are thrilled to be sponsoring the Northern Irish squad this year and are so pleased for our residents who have secured their place on the team".
Additionally, the introduction of a 'Five Nations' Street Soccer tournament in Belfast was announced at the launch of the Homeless World Cup team. This event will take place at Queen's University in September and the team at Street Soccer are keen to develop a female team to compete alongside the male team when England, Scotland, Wales and Republic of Ireland arrive in Belfast for the inaugural event.
For more information on the Simon Community NI's involvement in the Northern Ireland Homeless World Cup, contact Claire Andrews (Communications and Public Affairs Manager): claireandrews@simoncommunity.org / 07872 840326.