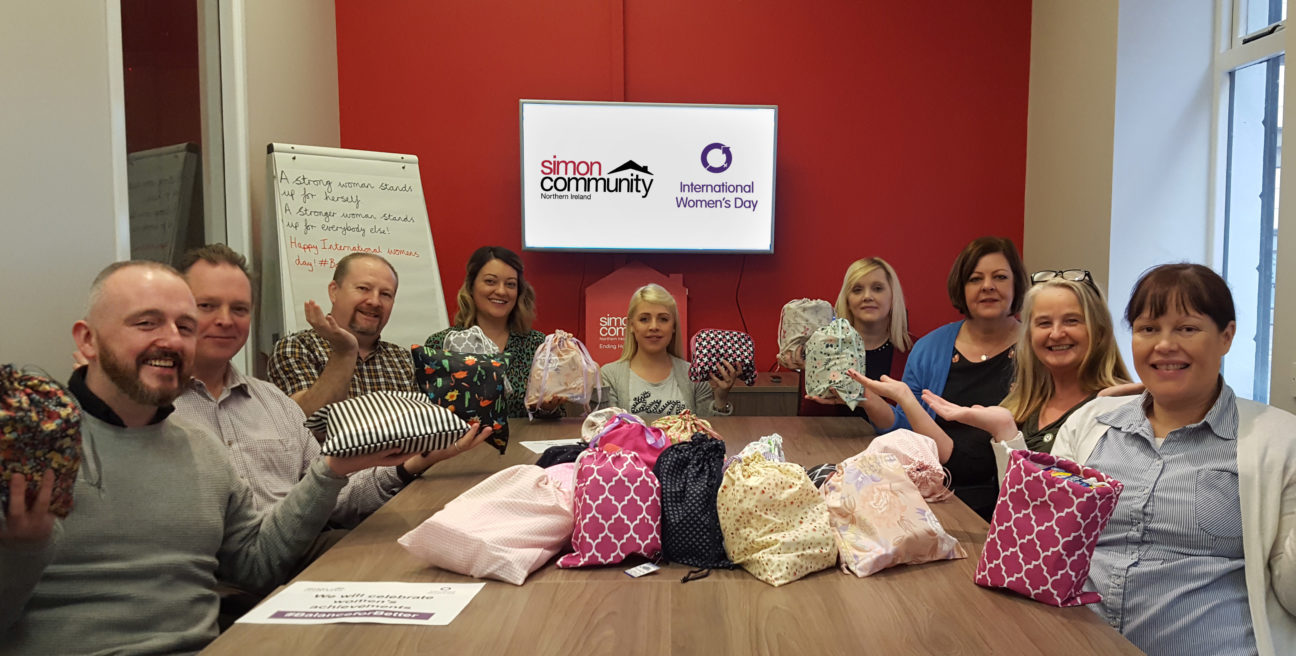 Today, Simon Community NI celebrates International Women's Day by raising awareness on the issue of female homelessness.
Society has entered an exciting period of history with people from all walks of life, regardless of colour, religion or sex accepting balance and equality. Acknowledging this year's theme of Balance for Better, the charity took an opportunity to highlight inspirational female staff and the issue of female homelessness. Kicking off celebrations with a 'Wash Bag Pack Party', an extension of the charity's  Welcome Packs  initiative, twenty-two wash bags were filled with toiletries and essential items, such as tampons, were packed by members of our central office team, symbolising that almost 22% of clients presenting at Simon Community services are female.
"Celebrating the International Women's Day theme of Balance for Better, we decided to organise a fun and informative volunteering session with our central office staff to highlight the issue of female homelessness," 


Oonagh Cullen – Learning and Development Manager at Simon Community NI
"Through the donation of 30mins of time, our staff created 22 Wash Bags for female clients across our services and learned a little more about the issue of female homelessness in Northern Ireland.

The subject of 'balance' fits perfectly with Simon Community's staff Health & Wellbeing strategy. This year, we aim to create a more resilient workforce through initiatives aimed at educating on the importance of things such as balanced diets and a positive work-life balance. Today's wellbeing session encouraged desk-based staff to socialise, step away from their computers and feel the health benefits of volunteering their time to a worthy cause." 
Shauna Toal, Youth Participation Worker at Simon Community NI, highlighted the issue of female homelessness.
"I see first-hand that the number of women affected by homelessness is increasing. However, like many of the female clients that I work with, I feel the public is largely unaware of this issue. They see homelessness as something that mainly affects men.




Many of the women I work with have suffered from domestic violence and family breakdown. When homeless, they are confronted by specific challenges not encountered by men. It's important that we and the homelessness sector as a whole continue to raise awareness of female homelessness." 
Every month, Simon Community NI provides up to 120 Welcome Packs, containing food and essential items, to people who arrive at hostel projects with little or nothing. Your small donation could help provide female clients with essential items, making every day a little bit more comfortable. Simply click here and give what you can to our Welcome Pack appeal today.
limitThumbs: