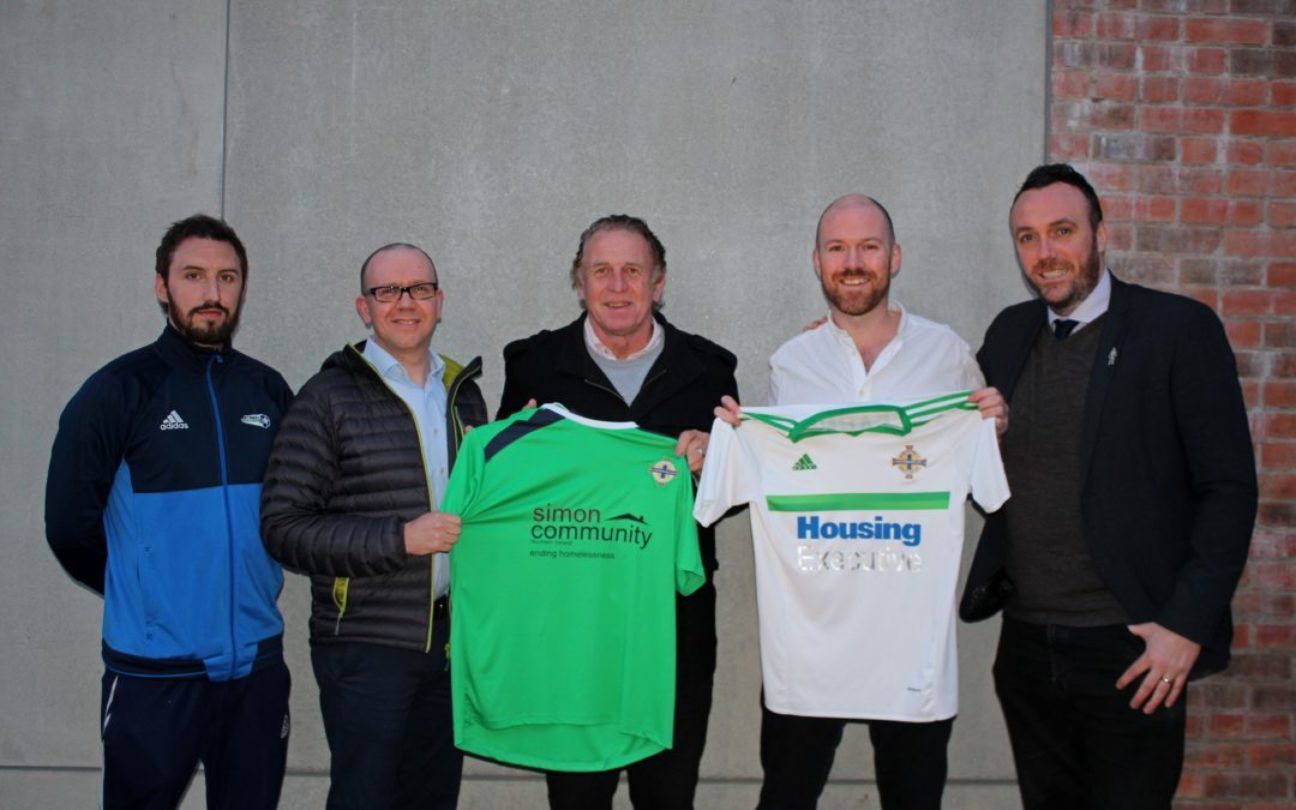 Former Northern Ireland International football legend Gerry Armstrong was announced as new ambassador for homeless charity Street Soccer NI. Gerry attended an event at Street Soccer last Saturday to hand out International Caps to previous Homeless World Cup players who represented their country in the last three Homeless World Cups. Street Soccer NI, in partnership with East Belfast Mission, the Housing Executive, Simon Community and IFA, run projects across NI using the power of football to transform the lives of people who are homeless and other disadvantaged groups. Alongside the football they offer support in housing, employability, and other issues that affect their players.
Street Soccer is now in preparation for this year's Homeless World Cup in Norway in August. They will be bringing a men and women's team to the weeklong event in Oslo that has a major impact on the players' lives. This will be Northern Ireland's first women's team to compete in the Homeless World Cup.Street Soccer is delighted to welcome on board Simon Community as a major sponsor for this year's team. Simon Community work with hundreds of homeless people throughout the country and know how sport can have such a positive impact on their clients.
Michael Boyd, Chairman of Street Soccer NI and IFA Director of Football Development, said:"It's fantastic to have someone with Gerry's experience shining the spotlight on a charity that does such good work with marginalised groups and we hope this will help raise the profile of our work in the community tackling homelessness through football"
Gerry Armstrong said:"I am so pleased to be announced as an ambassador for Street Soccer NI. What a great cause to be involved with and a wonderful opportunity to help people representing our country achieve their goals to compete in a World Cup competition, this can give them the confidence, belief and a chance to get jobs, and homes, and to improve their situation in life".
Jim Dennison, CEO, Simon Community NI, said:"It is fantastic to be once again working along with our friends at Street Soccer NI as they move forward in bringing together a squad to represent Northern Ireland at the Homeless World Cup 2017. We are delighted to support the team's involvement in this life-changing event. Involvement in Street Soccer NI provides a wonderful opportunity for people experiencing homelessness to come together in unison and ultimately presents a real and unique opportunity to represent their country at the forthcoming World Cup in August. We wish the team and all involved well".
Anne Sweeney, Assistant Director of Strategic Partnerships at the Housing Executive believes; "Using football to reach out to those affected by homelessness is an innovative and modern way of tackling the issue. The Housing Executive commends Street Soccer NI on changing many local lives for the better and wish their new patron, Gerry Armstrong, the very best as he begins his journey working with the teams."
Further Information: http://www.streetsoccerni.org/