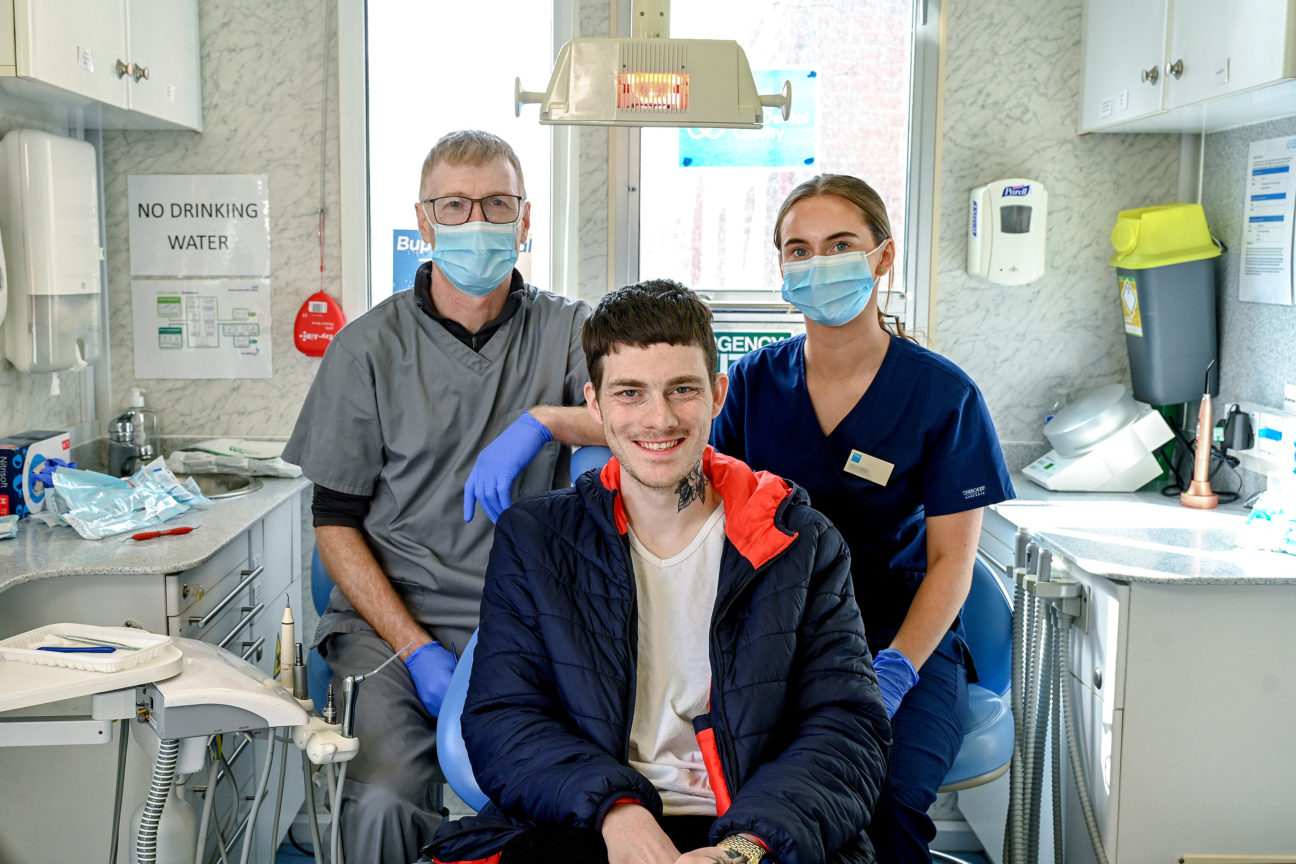 Simon Community NI clients will receive dental care thanks to a partnership between Dentaid The Dental Charity and Bupa Dental Care.
Simon Community NI clients who are facing dental issues will have monthly access to free emergency pain relieving treatments on the Dentaid mobile unit.

On board a fully equipped mobile dental unit, volunteers from Bupa Dental Care will be visiting Simon Community NI services in Belfast, Bangor and Armagh every month for the rest of the year.
In addition to offering extractions and fillings, the team will be providing oral cancer checks, scale and polish, preventative treatments and dental health advice.

Dentaid The Dental Charity has six mobile dental units that visit soup kitchens, hostels, temporary accommodation and community buildings across the UK. In addition to people experiencing homelessness, the charity's patients include survivors of abuse, refugees and asylum seekers, cancer patients, fishing communities and people overcoming addiction.

"We have had a long-held ambition to extend our charitable dental services into Northern Ireland and help those experiencing homelessness to access dental care," said Dentaid The Dental Charity CEO Andy Evans.

"We'll be helping people out of dental pain but also enabling our patients to feel more confident and understand the importance of dental health.

"We know our patients face many practical, emotional and physical barriers when it comes to dentistry but by taking our mobile dental unit to a location where they feel safe and supported we can give them the best possible chance of accessing care."

Penny Chapman, Bupa Dental Care Area Manager in Northern Ireland, commented: "We're proud to partner with two such important charities, Dentaid The Dental Charity and Simon Community NI, to help harder-to-reach communities in Northern Ireland get the dental care they need and deserve.

"We're currently planning a programme where our dental professionals will go out on the road every month to treat patients in need and help bridge the gap to improving oral health for those who need it."
Simon Community NI Chief Executive Jim Dennison welcomed the partnership, "This initiative will help give people their smiles back. Oral care can be extremely challenging for those experiencing homelessness and can cause people to become insecure about speaking or smiling, which further impacts their social isolation.

"The mobile dental unit provided by Dentaid the Dental Charity together with their volunteers from Bupa Dental Care will bring dental care directly to our clients improving their dental health and giving them the opportunity to smile with confidence again."
limitThumbs: