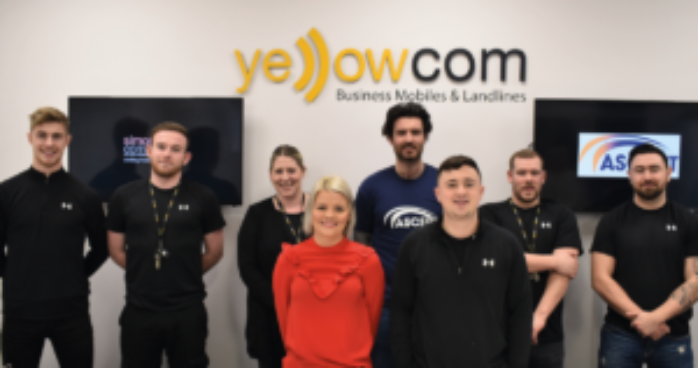 Belfast based telecommunications company, Yellowcom, have signed up to participate in this year's Belfast Marathon in support of ASCERT and Simon Community NI.
Taking on this impressive challenge, 2 relay teams will pound the pavements on Monday 7th May to raise vital funds.
Colin O 'Doherty, Daisy Systemic Practitioner at ASCERT and Amanda Karen Calvert, Flexible Outreach Worker at Simon Community will be joining with the relay teams, completing a leg of the marathon alongside the staff from yellowcom.
Speaking ahead of the Belfast Marathon, Stuart Duffner, Marketing Officer at Yellowcom "Our Belfast office are excited to be taking part in this year's marathon and raising funds for ASCERT and Simon Community NI. As a business we work with a lot of charities across Northern Ireland and know the fantastic work they all do. Both ASCERT and Simon Community NI are two brilliant charities which are very close to our hearts. We know they will put the money we raise to good use and our staff our delighted to be able to support them".
Thanking Yellowcom for their ongoing support, ASCERT's Fundraising Coordinator, Jenay Doyle, added "We are delighted that Yellowcom have decided to support ASCERT. As a charity we rely on voluntary funding and donations to address drug and alcohol issues, reduce harm and support positive and sustainable change for individuals, families and communities across Northern Ireland. We would like to thank Yellowcom for their ongoing support and wish them lots of luck as they take on this amazing challenge; we will be cheering them all the way!".

Brian Shanks, Corporate Fundraising Manager, Simon Community commented "We are very grateful to Yellowcom for supporting us at this year's marathon, and proud our own Amanda Karen Calvert for rising to the challenge. We would like to take this opportunity to thank everyone at Yellowcom for taking part and helping us raise vital funds to help the thousands of people every year who face homelessness across Northern Ireland"

If you would like to support Yellowcom and make a donation to ASCERT and Simon Community NI simply Click Here