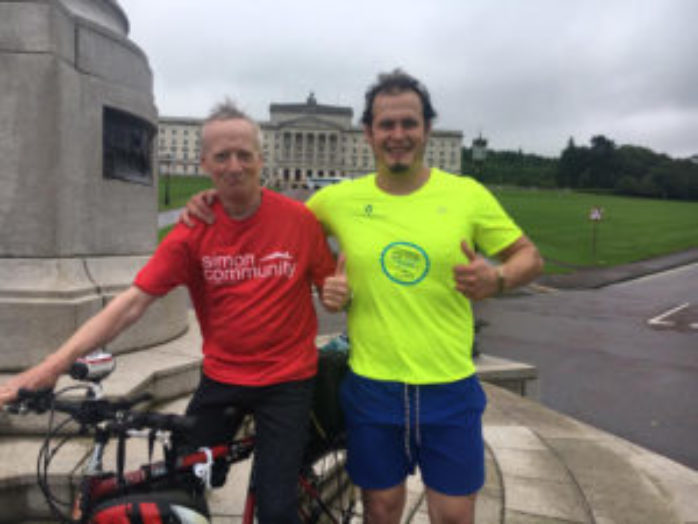 Noel Johnston set off from Stormont this morning on his epic journey around Ireland. He will run a full lap of the North and South of Ireland, touching down in over 21 counties, back to back in under 50 days. We are delighted that he has chosen Simon Community NI as his nominated charity. Noel will also sleep outdoors most nights to highlight the plight of those who have experienced homelessness without any support.
Having previously walked around Northern Ireland and Ulster, breaking the current Ulster Way Record, Noel has also cycled to Poland alone, traveling across 7 countries along the way. He has now gone one step further, doing what no one has dared to do before – run around the island of Ireland. His next challenge is called 'Run the Island'.
This will involve a 26 mile marathon every day for 40+ consecutive days, covering over 1000 miles on foot. Noel will camp along the way in landmark sites, with one man in tow, Lough Neagh native, James Cardwell. James Cardwell is 60+ and will be cycling alongside Noel carrying their kit.
Noel's first destination is Larne, where he will collect a bottle of water from Clearer Water, his official sponsors, before carrying it to Lough Erne Resort. Clear Water are Ireland's first social enterprise bottled water company, providing a relaxed working environment for disadvantaged people who find it difficult to get jobs, or who are unable to work in typical working environments. In addition to this Clearer Water also focus on digging wells to bring sustainable water supplies to people in Burkina Faso.
He will continue along the North coast, heading into Donegal and then carrying on through 21 counties around the North and South of Ireland. From Belfast to Derry, Donegal to Galway, Limerick, Kerry, Waterford, Wicklow, Dublin and making his way back towards Co. Down, finishing in Belfast.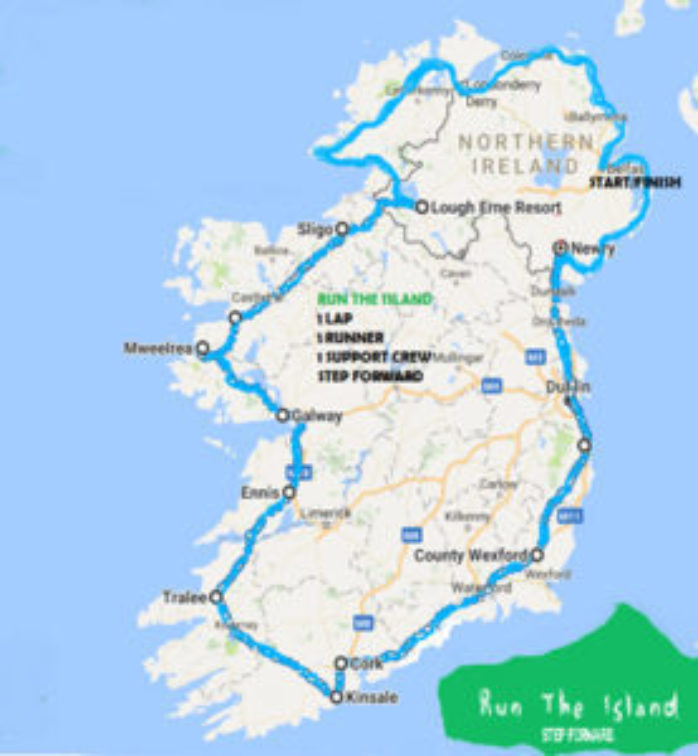 "The reason we are doing it is to help people but also to inspire others to do the same, we inhabit a beautiful little island and it will be great to see new places, and new faces. With a little bit of struggle thrown in for good measure along the way. It will get us fit and active before we head into the winter. And if we can help those affected by homelessness by completing our journey, then it will be a success. It will not be easy, but we must give it a go, and after being involved in the 'National Lottery funded Great Big Walk' in June, hopefully I have built up a bit of Stamina in the muscles to complete this challenge successfully. I am used to going alone, but this time I have one man in support. He has never done anything like this before, so it should definitely make for an interesting experience for all involved."
He adds – "Running is a mindful activity and having your health is a gift homelessness can take away. So, this will be also be an ideal opportunity to experience the hardships and struggles faced by many around the country, and hopefully the wider community will get involved in helping raising money for a charity that helps many in within our communities."
To support Noel and the Simon Community NI go to Virgin Money Giving.
If you would like more information about this topic, please contact Noel Johnston at 07928215417 or email at noel@runningthroughmymind.com.