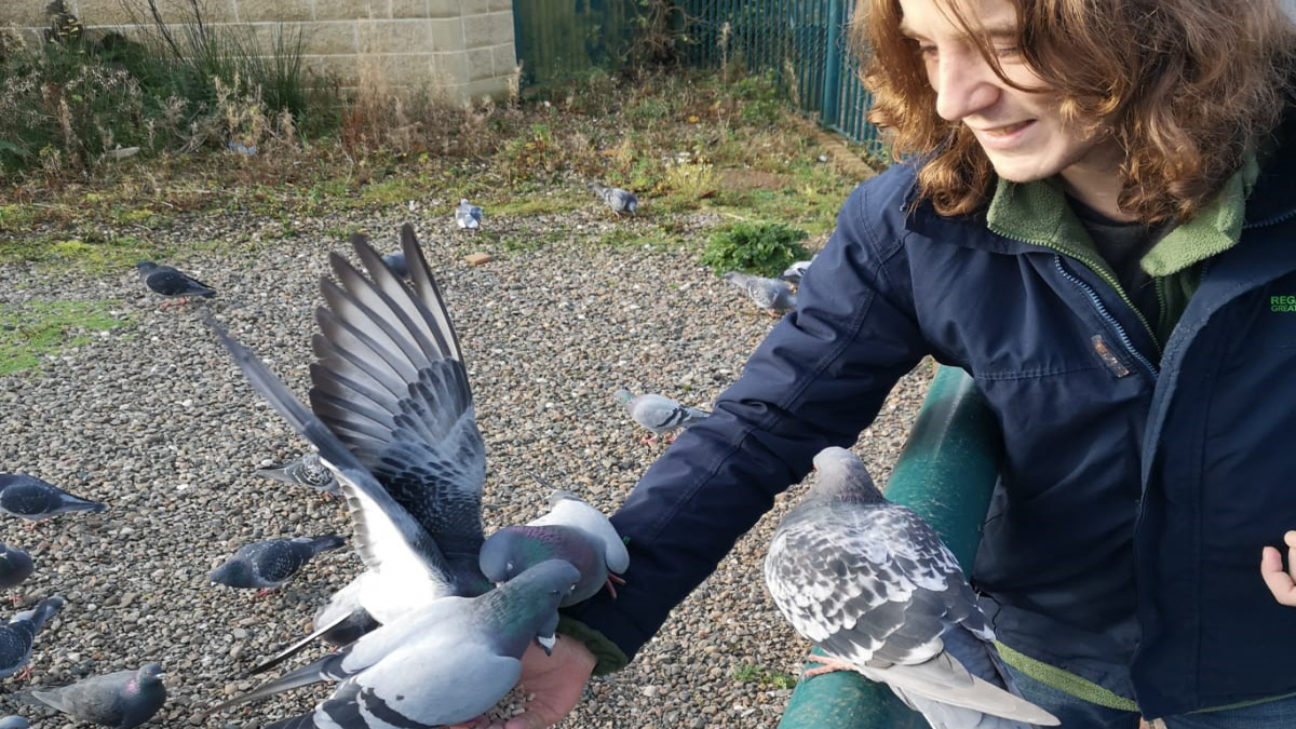 This Homelessness Awareness Day NI, taking place on Tuesday 8 December, Simon Community are celebrating the success of their new Wellbeing Practitioner Service, which in the first three months of operation has supported 75 hostel-based individuals across five of the country's health and social care trusts. 
The service, which recently received £500,000 National Lottery Community Fund NI funding over three years, made possible thanks to National Lottery players, employs six specialist wellbeing practitioners operating across the charity's adult homelessness accommodation projects. Providing a range of psychosocial interventions and harm reduction techniques to improve client health, save lives and end homelessness; the team have had to adapt, learn and operate to best meet the needs of marginalised individuals. 
Speaking of establishing a new service during a pandemic and establishing relationship with colleagues, Senior Wellbeing Practitioner, Georgina McCutcheon commented: 
It's been a challenging yet rewarding three months and through the use of a wellbeing measurement tool we have been able to track the positive impact our intervention is having on the mood of clients. This achievement has all been down to my team's professionalism in rising to the challenges presented.
Continuing, McCutcheon explained:

It takes a special type of person to succeed in connecting with some of the most marginalised and disengaged members of our society, but my team have taken it in their stride. From building relationships with stakeholders internally and externally to learning to work differently yet provide clients with consistency of service, the first three months have been a baptism of fire for the team.
Although the service has experienced a successful first three months, the restrictions imposed by COVID-19 have impacted the overall client's journey to better wellbeing. The absence of gym access, increased forms of isolation and a reduction in community-based social activities have all seen hostel residents spending more time alone in their room and failing to develop personal relationships.
Detailing this further, McCutcheon highlighted the absence of vital services for clients with addition needs: 
With other specialist mental health and addiction services having reduced capacity to meet face-to-face or offering phone support only, my team quickly found that we were supporting clients who not only had past trauma, addiction or mental health issues but who now experienced the most adverse effects of COVID isolation. For these individuals, March to September 2020 had not been filled with banana bread baking or TikTok dance videos but rather months of loneliness and anxiety.
For those clients who have availed of the free service, many have stated that it came at the right time with waiting lists already in place at some of Simon Community's accommodation projects. One client commented how glad they were that the service arrived to their homelessness project, saying: 
Having someone to talk to is very helpful and I only wish the service had been here when I was at my lowest a year ago.
The charity's project managers further reinforce the importance of a face-to-face specialist service after noting a large deterioration in mental health of their clients after months of restrictions. Frances Black, Service Manager at the charity's Saintfield Road accommodation project explained: 
The wellbeing service has been a great success in our project. As well as working closely with clients on mental health concerns and addictions, the team have also ensured that the right external support is made available to clients most in need. The team have also worked closely with my staff to debrief on situations, which has had a positive effect on all those who work and reside in Saintfield Road. This new service has been true lifeline for our clients.

Kate Beggs, Northern Ireland Director of The National Lottery Community Fund who have funded this project said,
The Simon Community has worked tirelessly to help people affected by homelessness and we are delighted that their Wellbeing Practitioner Service has been a great success, supporting 75 people in need.


National Lottery players raise around £30 million every week across the UK for good causes like this, and they can be proud to know that it is making such a difference in Northern Ireland.

To help provide shelter and support to those most in need across Northern Ireland, please Donate Now.