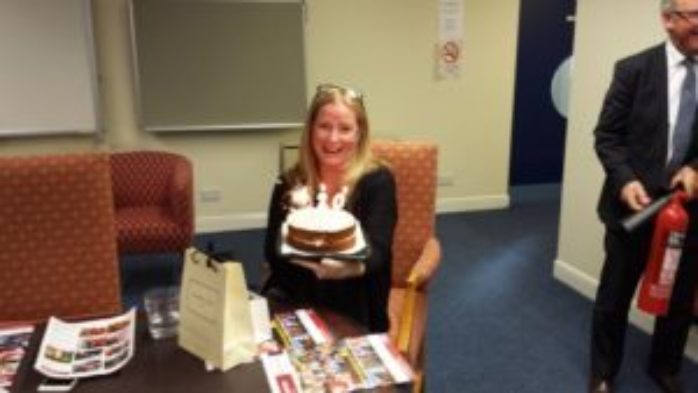 I have had the pleasure of working with the Simon Community for 20 years and have always been committed to their vision of ending homelessness.
My first role was in the Finance department for 1 year, based in Fitzroy Avenue. At this point, Simon Community were expanding and when the opportunity arose to move to a new Project on Malone Road, I applied for the position of Finance Administrator and moved to the Belfast Foyer – little did I know at the time I would be there for 12 years!
The Foyer was specifically for young people aged 16-25 and it was heart wrenching to hear their stories. It was here that I knew I had found my vocation and wanted to do all I could to help.
Although I was not a Support Worker, I was still able to help in small ways. My background in finance allowed me to support clients who were dependent on the benefit system and Social Services. I offered one to one advice on budgeting and payment plans; this was an area most clients found extremely hard to manage as they were receiving a very low income. Many clients found it difficult to fill in forms for College, Housing Benefit, Community Care Grants and Job Applications etc. I was always willing to help with these and attend appointments with them. I felt that what we see as a simple action could make a real difference to these young people. The fact that someone cared enough to help them was a massive boost to their confidence, and a very rewarding aspect of the job for me.
As well as financial struggles, many clients had additional difficulties and health problems. They felt trapped and in some cases, developed complacency to hostel life. In many cases the accommodation was better than what they were experiencing prior to entering Simon Community, and they developed friendships and lost sight of the fact that they were in the homelessness cycle. This is where Simon staff played an important role, helping them stay on track, encouraging independence and developing their vision of a better future.
I feel my experience at the Belfast Foyer provided me with an invaluable insight into, and understanding of the issues facing those who are homeless. During my time there, I developed lifelong friendships with some of the staff, even though most of them have now moved on – Simon Community was always keen to develop staff potential and further careers.
Last year, a former client returned to the Foyer after 15 years, he wanted to thank the Team at the time for helping him. He is now a teacher, and married with a baby. He said his experience at the Foyer helped him a great deal when he was so young and vulnerable.
I reflected on his first few days, when each morning, he left the Foyer to go to school. It saddened me that his circumstances had led him needing to be so independent at only 17 years old. However, being able to provide support with his applications for benefits and schooling, and being there to chat when he was feeling down, is a vital part of what Simon Community NI does. It was great to be part of that and even better to hear how well he has done. This is one of the stories that highlight the impact of our work. It was very rewarding for the staff.
After 12 years at the Foyer, where I was able to be involved with the resettlement of many clients and had the pleasure of working with so many good people, I felt I was ready for a new challenge, helping in a different way. I moved back to Finance and have now been here for 7 years. The time has flown and I really love being part of the team. Although it was hard to adjust to the office environment after being out on Project for so many years, it didn't take too long to settle in, thanks to my lovely co-workers who made me feel very welcome.
That's one of the good things about Simon, you meet really good people who make it a happy place to work, and I'm lucky enough to have made some great friends.
I feel fundraising is an important part of working for Simon Community NI and have participated in several fundraising events over the years. These include the Marathon Relay, Half Marathon, Slieve Donard Walk and most recently, the 10k Coastal Walk.
I feel it is important to support Simon and always encourage my friends and family to do the same.
I am proud to be part of the Simon Community NI team and hope to continue to play my part in ending homelessness for many years to come.