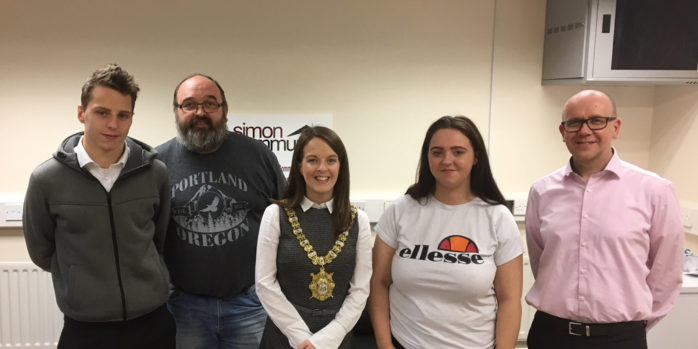 Simon Community NI was pleased to welcome Lord Mayor Nuala McAllister to our Belfast Foyer Young People's Project this month. The Lord Mayor met with young people staying at the Foyer and listened to their views on Belfast – how welcoming the city is to locals and visitors, what they felt could improve the city, and what concerns and issues they had as young people living in the city.
Clients Ben, Gemma and Esther met with Lord Mayor Nuala McAllister alongside our Belfast Foyer Team Leader Hazel Deeney and Support Worker Davey Faulkner. Discussions also included ideas from Ben, Gemma and Esther as to how homelessness services in the city could be improved, and what their plans for the future included. Simon Community NI
Chief Executive Jim Dennison also spent time with the Lord Mayor, discussing the reality of homelessness in Belfast and explaining what Simon Community NI offers people experiencing homelessness in the city and further afield.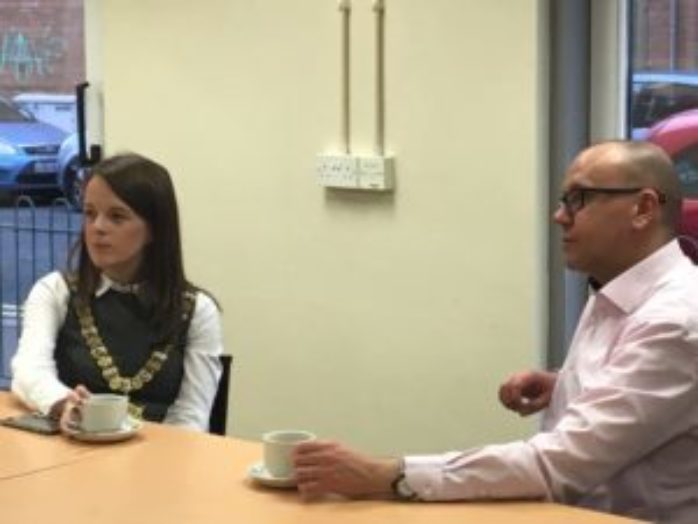 Jim Dennison said of the visit, 'It was fantastic to have the Lord Mayor visit one of our Belfast Young People's Projects. It is clear that she cares very much about homelessness and the issues impacting young people living in Belfast. We look forward to working together going forward to tackle homelessness in the city and make Belfast an inclusive and supportive city for everyone.'
A great time was had by all and we really appreciate Lord Mayor Nuala McAllister taking time out of her busy schedule to drop by and meet the people we work with and our staff.