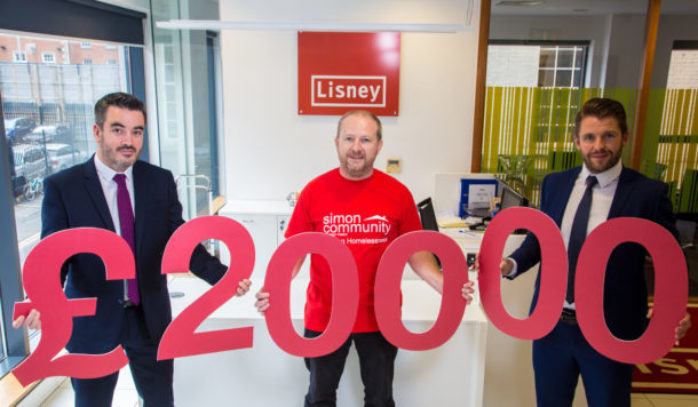 Leading commercial property agency doubles its target in inaugural charity partnership.
Leading commercial property agency Lisney has raised £20,000 – double its initial target – for the Simon Community through its inaugural official charity partnership.
Lisney staff supported Northern Ireland's leading homeless charity throughout the last 18 months by organising a series of fundraising events.
This included three relay teams of five running the Belfast City Marathon with Marketing Manager Chris Campbell completing the entire course, and together Lisney staff raised £4,000 towards the overall total. Director Ciaran O'Kane also led a team of three cyclists who raised £3,000 by taking part in the Gran Fondo.
Another fundraising highlight saw the Lisney Director team taking part in an overnight sleep-out on the street in front of the firm's Montgomery Street base, which raised over £10,000.
The funds raised have gone towards the Simon Community's Homelessness Prevention Programme, an initiative which aims to work directly with the community to help resolve problems and circumstances that may put victim's homes at risk.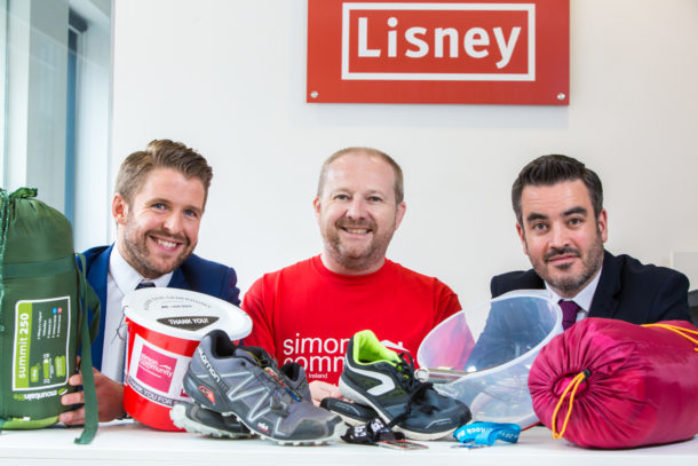 Chris Campbell, Marketing Manager at Lisney and charity partnership co-ordinator, said:
"We are delighted that our partnership has generated such a significant sum for the Simon Community. Our staff really took the charity to heart and fully embraced the challenge of raising as much money as possible, meaning we doubled our initial £10,000 fundraising target. We take great comfort in the fact that these funds will help protect the most vulnerable in our society and shine a light on the fantastic work that the Simon Community carries out."
Declan Flynn, Managing Director at Lisney, added:
"It's the first time we've officially partnered with a charity and I'm very proud of the effort made by every member of staff to ensure it was a major success."
Simon Community NI is a leading local charity that works across Northern Ireland providing emergency accommodation, advice, and support services for people who are homeless or who are at risk of becoming homeless.
Brian Shanks, Corporate Partnership Manager for the Simon Community NI, said:
"We were really impressed by the total raised through the fundraising efforts of Lisney staff and Directors, who have shown incredible enthusiasm and commitment over the last year. £20,000 is a fantastic amount and has had a significant impact on our Homelessness Prevention Programme, and continues to do so. On behalf of the staff and clients of Simon Community NI I would like to extend our thanks to Declan and the entire Lisney team for their emphatic support throughout the last 18 months. Their efforts will help us to continue to tackle this growing issue and assist those most in need."

For more information, on how your company or organisation can get involved with the Simon Community contact Brian Shanks BrianShanks@simoncommunity.org or on 079 2522 6351