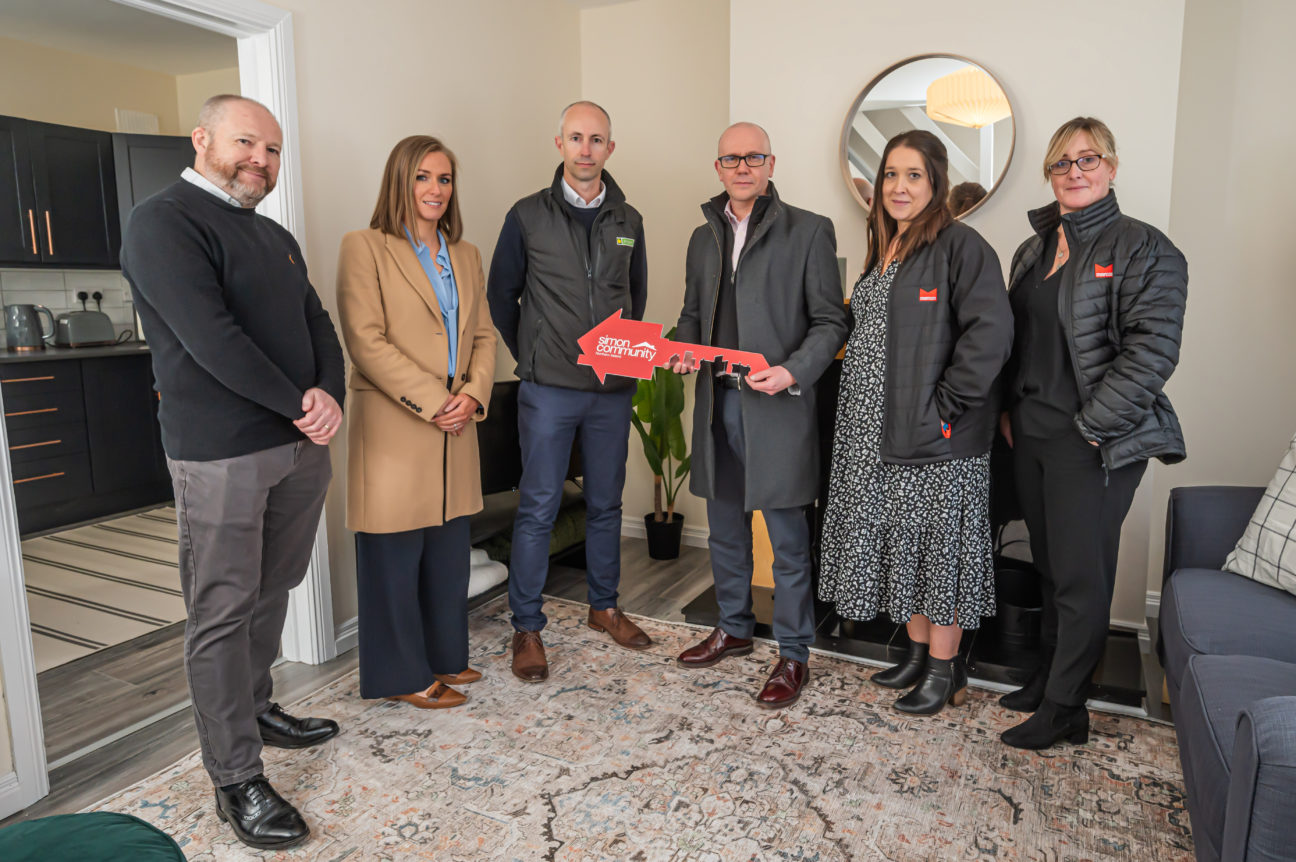 Simon Community NI is pleased to officially announce JP Corry and Marcon as corporate partners for its Creating Homes initiative.
Creating Homes was launched in 2022 as part of Simon Community NI's 50th anniversary. It is an ambitious plan which will see the charity buy or manage 50 properties to rent directly to those experiencing long-term homelessness in a bid to address the chronic shortage of social housing and the lack of affordable housing options available at present. The initiative recently saw the keys of its eighth house handed over to a new tenant.
Well into their second century of trading, JP Corry, part of STARK Building Material UK Ltd, is a leading supplier of building materials and timber products across Northern Ireland and Isle of Man. In line with their commitment to being a sustainable and responsible business which is recognised through achieving gold in BITC's CORE award and shortlisted for 'Responsible Company of the year' in 2022, JP Corry has been a corporate partner of the Simon Community since 2021.
Laura Wray, JP Corry HR Manager said the decision to increase their commitment by supporting Creating Homes was an easy one,
Creating Homes is part of our shared value that everyone deserves a safe place to call home. We have been pleased to partner with the Simon Community over the past two years and expanding our commitment aligns with our fundamental operation of providing the equipment and materials for the creation, restoration and renovation of buildings to improve people's quality of life and personal wellbeing. This is an exciting initiative and one we are proud to be a part of.
Antrim-based Marcon has provided a robust building solution incorporating refurbishment, interior fit-out and specialist joinery across the UK and Ireland since 2004.
Mark O'Connor, Marcon Director commented,
We pride ourselves on being a responsible business and it is important that we contribute to places in which we work and support our local communities. We hope to be able to bring our specific expertise to the Creating Homes initiative, investing in the long-term sustainability of communities.
Procurement Manager at Marcon, Laura Moore continued,
It's great to be able to use our skills to get involved, demonstrating our commitment to making positive changes in the communities where we work. The whole team really enjoy participating in schemes like this and it gives them a sense of pride that they are helping to make a difference to people's lives.
Simon Community NI Chief Executive Jim Dennison added,
We are delighted to welcome JP Corry and Marcon as new corporate supporters to our Creating Homes initiative. We recently welcomed them to view the latest house we have refurbished, just before the new tenant moved in, to see for themselves the high standard of accommodation we are providing, and the impact the initiative has to change lives.
Since its launch in 2022 Creating Homes has welcomed eight new tenants to refurbished homes, including the most recent in Portadown. There have been two further sales agreed on properties in Ballymena and Derry, bringing the total number of houses acquired under the initiative to ten.
For more information about the Creating Homes initiative please click here.