Choice and Simon Community NI partner to better tackle homelessness by making private renting a reality.
With homelessness having risen by a staggering 32% over the last five years, the creation of a Tenancy Liaison service, partially funded by Choice, plans to help the most vulnerable in society enter the private rented sector and live independently and happily.
The new service sees support workers and team leaders from Simon Community regularly work with clients to identify those individuals and families who are 'tenancy ready' but do not have the means to afford a private sector deposit or the first month's rent.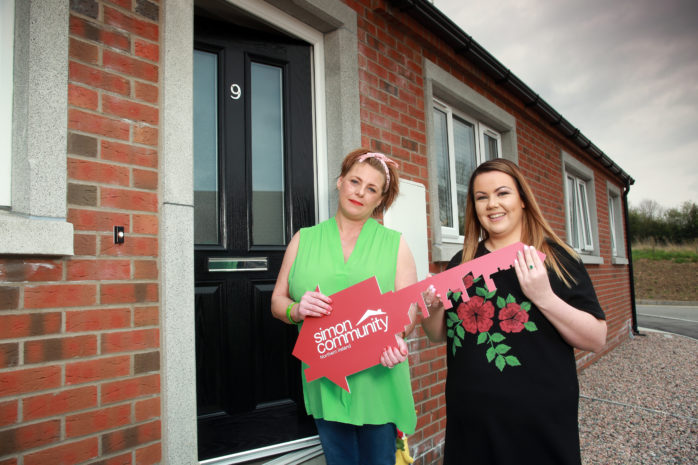 Louise Davies, who has been involved in the scheme with Choice and the Simon Community overcame addiction issues and poor mental health after the death of her mother, was the first client to avail of the service. Praising the tenancy sustainment service, Louise said:

Working with Simon Community saved my life. I wouldn't be alive today and have this beautiful house, if it wasn't for them. I have never known kindness like it. I went through a really difficult stage in my life and found myself at rock bottom. This service has been instrumental in helping turn my life around. I've went from complete darkness to actually living my life.
The world needs selfless people like those in the Simon Community to continue to help and they need support from companies such as Choice to provide the required funding to allow them to continue the lifesaving work they do.
Thanks to Simon Community, I've overcome my demons. Without Choice Housing's investment into the scheme, I would not have been able to afford the security deposit for my new home.
Through an investment of £10,000 from Choice, the service will provide housing clinics across six Simon Community NI projects with a dedicated Tenancy Liaison Officer operating across Northern Ireland. To date, the scheme has seen three individuals move into private rented properties with a further four clients currently waiting to find a suitable properties to match their individual needs.  
Lawrence Jackson, Choice Group Director of Organisational Development said:
Our aim is to go beyond bricks and mortar and working with Simon Community NI is an expression of our commitment to improve our services and create more inclusive communities. Everyone deserves the right to sleep in a warm bed each night. The expense of private renting can be an incredibly difficult barrier to overcome. Creating this alternative pathway is an innovative step forward that will act as a vital lifeline for those in need.
Jim Dennison, Simon Community NI's Chief Executive, added:
We know that the best way to break the cycle of homelessness is to help people find and move into a home for the long term. At a time when social housing waiting lists are growing and demand for temporary accommodation rising, the private rented sector is an increasingly important source of housing for people moving out of hostels. Too often the expense involved means private renting is beyond the reach of people who are vulnerable and on low incomes or benefits. Choice Housing has provided funding to our Tenancy Liaison Service to help find solutions to that problem, allowing our charity to identify and secure tenancies for clients.