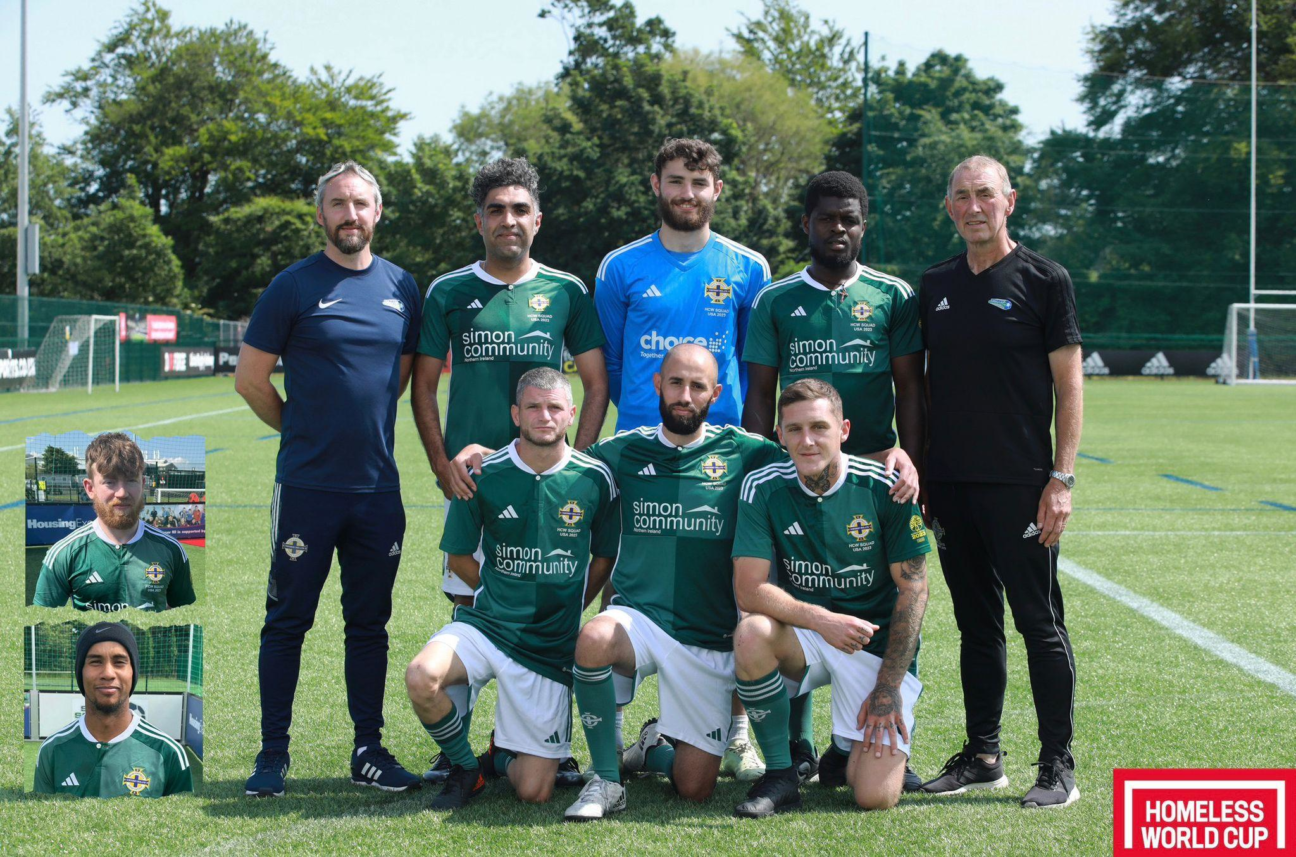 This year's Street Soccer NI Team has been supported by Simon Community NI, Choice Housing, Nationwide and others will be joining teams from 60 countries during the week-long event. Sacramento State's Hornet Football Stadium will be the venue for the matches.
Street Soccer NI, a charity working with homeless people and disadvantaged groups across Northern Ireland are delighted to announce that they will be taking a men's team to the Homeless World Cup in Sacramento, California from 6th July – 16th July 2023. The Homeless World Cup is a 4-aside tournament with games lasting 14 minutes and each team playing 12 matches in total. This is a football tournament with purpose. The year-round work and training culminates in a world class event which has the power to change the lives of participants and shape attitudes towards this global issue, using the universal language of football.

Justin McMinn, CEO and Co-founder of Street Soccer NI said:
''We're so excited to be taking part in the Homeless World Cup again after it being off for a few years due to the pandemic. We've witnessed over the years what a huge impact this event can have on people's lives. Many come back full of motivation and confidence to make positive changes in their lives including getting a house, entering employment, becoming a volunteer and more.''
Jim Dennison, CEO of Simon Community Northern Ireland stated:
''Being a sponsor to the Homeless World Cup means so much to us here at Simon Community NI. With each year we see more and more individuals facing homelessness and with that comes a higher demand for our services. The work that Street Soccer NI achieves brings joy and positivity back into our community and provides our clients with the opportunity to get involved in the game bringing motivation and joy to each individual. We are grateful for the support Street Soccer NI provides to our clients and to be a part of their Homeless World Cup journey."
Lawrence Jackson, Group Director of Corporate Services at Choice:
"At Choice, we are proud to be sponsoring Street Soccer NI and their participation in the Homeless World Cup in California. Initiatives like Street Soccer NI are doing amazing work in giving those affected by homelessness a real opportunity to improve their lives whilst developing new skills and friendships. It is also about having fun, enjoying a once in a lifetime experience – one they will hopefully remember for a long time".
Osama, 30, a refugee from Syria who's been involved with Street Soccer for over 1 year:
"I have really got a lot from Street Soccer since I joined. I made a lot of friends. It gave me a lot of confidence. I love playing football in the friendly atmosphere. After sleeping from house to house when I was homeless Street Soccer NI helped me to find accommodation and they helped me with deposit and first month's rent. After volunteering with them for a few months I am now working part time with them. I have been chosen as captain to represent Northern Ireland at the Homeless World Cup in USA. I'm really thankful and proud I got chosen."
Michael, 29, a player who has been involved with Street Soccer for over 5 years:
"When I first started Street Soccer I just came off class A drugs, I was nervous going at the start, but the guys made me feel really welcome. It made me more secure about myself. I struggled with my mental health and I used to self-harm but since being involved it's kept me on the right path and give me things to do every day. I attend 4 or 5 days a week and volunteer with them. Being selected for the team is one of the biggest achievements of my life, as I never finished school. My kids will have something to tell people about, that their daddy represented Northern Ireland. I'm really Looking forward to meeting new people and enjoying the experience of being away.''
Street Soccer NI works with over 200 people every week across Northern Ireland offering free access to weekly football sessions for men and women. Once players engage in the football they get offered support with housing, employment, education, addictions and more. They currently have weekly sessions in Belfast, Derry/Londonderry, Downpatrick, Coleraine and Bangor.
Learn more about the Sacramento 2023 – Homeless World Cup (2023homelessworldcup.org) and Street Soccer NI.