Recently our teams in Derry attended the Homeless Connect Awards for Homeless Awareness Week 2022. The award ceremony was hosted in the Guildhall Derry by the mayor Sandra Duffy and the Northern Ireland Housing Executive. Our Derry team had a successful evening celebrating the win of 5 individual awards and a team award!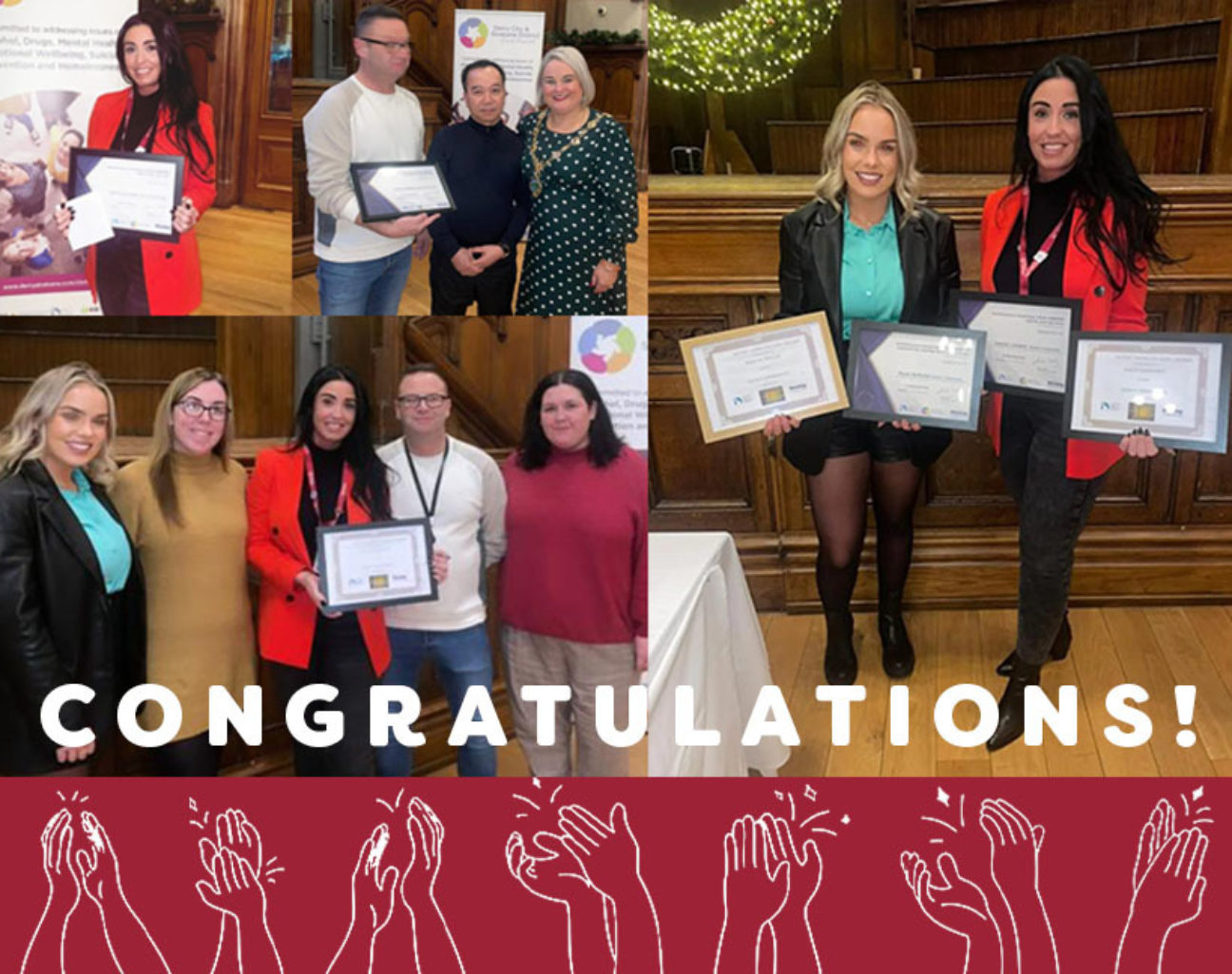 Winner of Supporting Females with Addictions, Rosie McMullan, has been described by her clients as open and honest, never judgemental, encouraging and helpful. One of her clients said:
"Rosie does not think she is better than me and works through my addiction and sees I am a normal person aside from it."

Paul Brenslin, runner up for Supporting Men with Addictions, has clients saying he "is always encouraging… he is the reason I get up most days" another client simple says "he helps to keep me calm and talks to me like I mean something." Paul's clients would say he is non-judgmental, calming and always encouraging.

"Paul is always encouraging me to get out of bed and attend my appointments, he's the reason I get up most days."

Winner of Going Over and Above in Homeless Services, Joanne Leonard, has been described to always have a big smile on her face and has time for everyone even though she is the project manager. Her clients mention that she is honest and compassionate and always makes time for a chat and a cuppa. One client even refers to Joanne as Super Woman:

"Joanne is a real-life super woman and the world needs more of her as she does so much and never looks for any thanks."

New team member Trevor Holmes was the winner of the Inclusivity Programmes. He has been achieving some really great work through including and embracing all people irrespective of race, gender, disability, medical or other needs. Project Manager, Joanne nominated Trevor and stated the following about Trevor's' work within the community:

"It is about giving equal access and opportunity and getting rid of discrimination and Trevor has worked closely with several of our probation clients who have history of offending behavior. He never stops until their needs are met and support can be given, and through gritted teeth, sheer determination, hard work and graft he always got what was a human right and is deserving to for the award."

Congratulations and well done to ALL the teams in Derry, thank you for your continued hard work and efforts every day, know that you are appreciated and supported by fellow colleagues and clients alike each day of the year.

"There is no I in Team and I am very fortunate, blessed and lucky to work with some of the most kind, caring and considerate people who do an amazing job, addressing and supporting clients with not only issues with homeless but an array of complexities. I am very proud to work to Simon Community NI and we together as a team will keep working hard, advocating for those with no voice and providing a service to all who come through our doors."

– Joanne Leonard