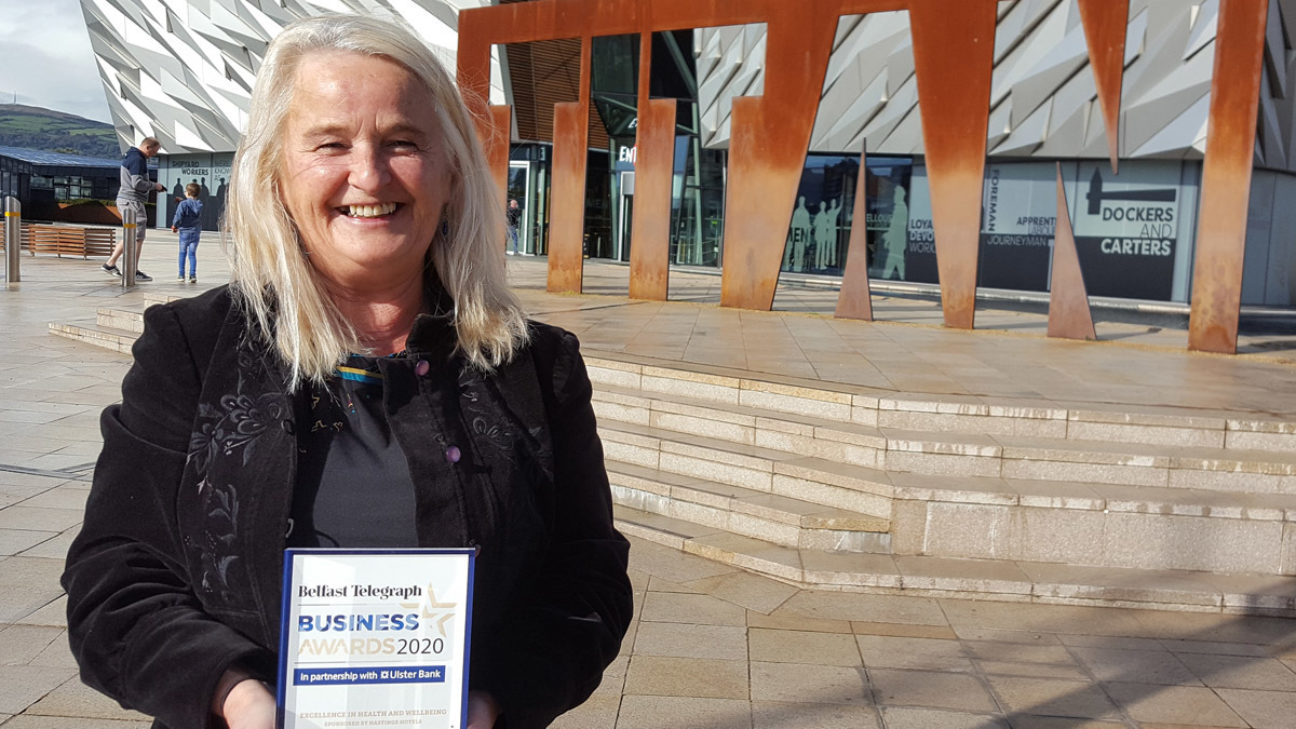 The Belfast Telegraph Business Awards 2020 took place at Titanic Belfast on Friday 9 October at an intimate recognition launch for winners and sponsors. Delivered in partnership with Ulster Bank, the awards recognise and celebrate the business successes of individuals and organisations across Northern Ireland.
This year, Simon Community NI proudly took home the award for Excellence in Workplace Health & Wellbeing. The award acknowledged the charity's commitment to employee training and resilience building, many of whom work daily with clients who not only experience homelessness but who also exhibit complex needs including trauma, poor mental health and addiction
Picking up the award, Oonagh Cullen, Learning & Development Manager at Simon Community NI commented:   
We're absolutely delighted to have been acknowledged in such an important category. In a highly pressured homelessness charity with strict funding restrictions, health and wellbeing initiatives cannot be gift vouchers, ice cream vans on Fridays or a surprise half day's leave.
Our staff are responding to overdoses or suicidal attempts on a regular basis and what they need is the skills, strength and support to best respond and reflect on those scenarios. That's why learning and training is a high priority at Simon Community, it is this that keeps staff mentally and physically well and our clients alive.
Speaking of the charity's commitment to health and wellbeing, Robin Arbuthnot, Director of HR & Organisational Development at Simon, said: 
Both the Board and the Senior Management Team place staff as a central strategic theme and make resources available to invest in health and wellbeing. Initiatives include staff conferences, enhanced training programmes and an investment of wider employee health support packages. We've still more that we want to achieve, and this award recognition will help motivate the whole charity to achieve on our health and wellbeing objectives.
Moving forward, the charity aims to build on its foundation and has just recently completed a staff health and wellbeing survey to reflect on the impact of COVID, discover training gaps in response to the ever-changing nature of homelessness and develop initiatives in partnership with its workforce.