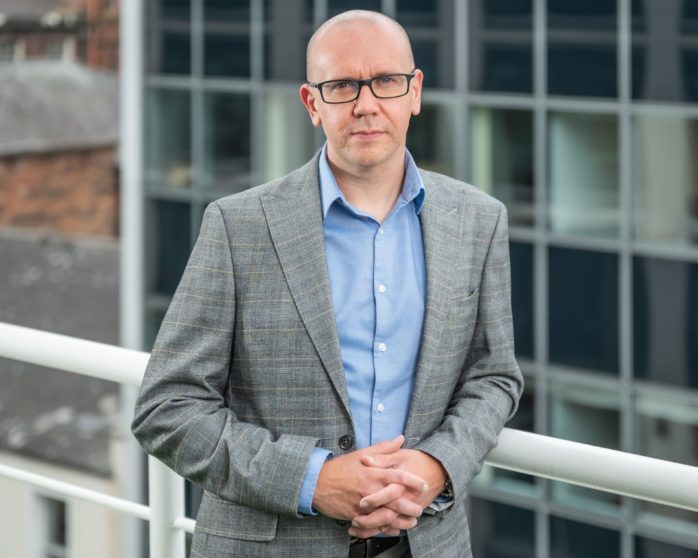 Simon Community NI's Chief Executive Jim Dennison reflects on the charity's 50th year ambition and details the vital role that businesses can play in ending homelessness.
From a handful of volunteers delivering soup to rough sleepers on the streets of Belfast, Simon Community NI has come a long way since it was established in 1971. Now with a workforce of over 380 passionate individuals, Northern Ireland's leading and longest running homelessness charity supports up to 636 marginalised people each day across 25 accommodation projects and 13 community support services.
Commenting on the role of corporates on the charity's impact, Jim Dennison, Chief Executive at Simon Community stated:
For 50 years, the charity has been at the forefront of community-led homelessness solutions and supporting this work behind the scenes are our determined supporters. Through the donation of time, skills, PPE, food, and financial assistance, recent corporate support has helped us navigate the ever-changing environment that COVID created. As a result, we were able to keep bed spaces open for people in need, establish new services for women and children, better respond to the health and wellbeing of clients, and provide hardship support and rental deposit to individuals.
With demand for the charity's accommodation services having increased by 20% last year and the housing system continuing to struggle to provide homes for people, Simon Community began to explore new ways to prevent or end homelessness for clients. In October 2021, they added to their commitment in making affordable private renting an option by launching 'Creating Homes', an initiative during their 50th year that will see the charity buy as well as manage 50 homes for people who are homeless.
Having already successfully restored three homes in Belfast, one in Larne and a further in Bangor, Dennison highlights the important role that businesses will play in the programme:
We developed Creating Homes as a way for the charity to meet the needs of people and families who are homeless. Through fundraising and volunteering, we're wanting organisations and their staff to help support the purchase and renovation of someone's new home.
Speaking about the impact of Creating Homes, Donald aged 25 explained:
I was in a situation where I had been living in temporary accommodation and never received a housing offer. Then Simon Community offered me one if its newly purchased properties. As soon as I viewed the house, I knew this was meant to be my home and since moving in I have been able to establish friendships, gained my independence and moved forward with my life. My own home has given me freedom and security.
Acknowledging the impact of corporate support, Dennison finished by saying:
Corporate partnerships help us grow awareness, think differently about how we operate and generate the funds needed to create real change. I'd like to thank each supporter whose kindness this year has helped us provide comfort and dignity, at Christmas and beyond, to those experiencing homelessness.
Thank you to our Corporate Christmas Sponsors