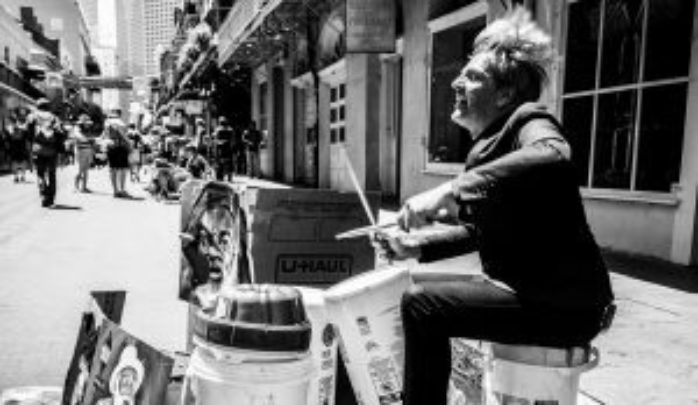 Triggerfinger drummer, Mario Goossens to explore tragedy, resilience and the healing power of music with the filming of tv show Paradise City in Belfast.
This week, musician and producer, Mario Goossens, will make a guest performance with Belfast Community Gospel Choir at Simon Community NI's homelessness concert.
Bringing together an ensemble of 50 talented performers from Northern Ireland's first and only multicultural gospel choir, Goossens who is best known as the drummer of successful Belgian rock band Triggerfinger will film perform and film the concert as part of his TV series, Paradise City.
In the documentary series Paradise City, Goossens visits cities that have experienced tragedy and explores the stories of the people and the healing power of music. In season one, which will document Belfast, the tv series will also visit cities such as Detroit, Kigali, Hiroshima, New Orleans and Port-au-Prince looking at a mixture of tragedies including bankruptcy, genocide and natural disasters.
Speaking about the filming of Paradise City and his guest appearance with Belfast Community Gospel Choir, Mario Goossens commented: "I'm delighted to be performing at the concert for homelessness. The TV show Paradise City travels to places across the world looking at the healing power of music in those communities impacted by extreme tragedy. With Belfast's troubled past, I can think of no better place to examine the resilience of the people and the ways in which people have become most creative in extreme circumstances. I look forward to playing on the night with Belfast Community Gospel Choir and creating something unique and entertaining for the people of Belfast."
Taking place on Sunday 16th September, the evening with Belfast Community Gospel Choir will take place at St John's Church in West Belfast – an area with high levels of deprivation, housing crisis and home to three Simon Community NI accommodation services.
Every day, we end homelessness for people from all walks of life and charity events play a key role in helping us create a society where everyone has a home. The choir evening will raise funds needed to deliver and develop initiatives such as emergency hardship loans, social activities and addiction support – additional services that are vital to ending the causes of homelessness in Northern Ireland and better ensuring people have the skills needed to maintain tenancies as they move on towards independent living.

The evening will also help raise awareness around the issue of homelessness in West Belfast – a location where we support up to 24 families and 33 adults daily across three specialist hostels. We hope the local community, and those from further afield, come along for a fun evening and help support some of the most vulnerable in our society.

Jim Dennison – Chief Executive at Simon Community NI, Highlighting the importance of such charity events
I am absolutely thrilled that BCGC are returning to the West of the city to perform in St John's Parish. We have had 2 fabulous concerts in the past in Clonard and St Peter's and the audiences were just amazing. September 16th will be an evening of laughter, foot-stomping, hand clapping, joyful music topped off with some spine-tingling ballads.

Marie Lacey – Director of BCGC
I'm really looking forward to hearing and seeing the Belfast Gospel Choir perform as I've been following them with interest over the past number of years. It's great that they are coming to St John's and I know we will give them a very warm word of Fáilte and it's even more special that the proceeds of the concert will benefit the work of the Simon Community in meeting the needs of the homeless.

Fr Martin Magill – St John's Parish Priest, Commenting on hosting Simon Community NI for the evening