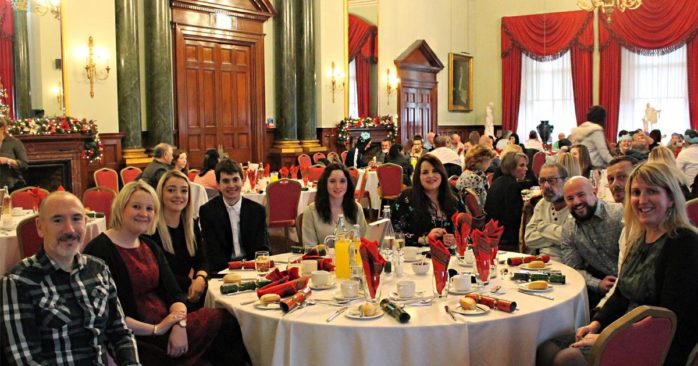 People living in Simon Community NI temporary and emergency accommodation projects across Northern Ireland had a day to remember this week thanks to a very special Christmas Dinner.
For the second year running, Henderson Foodservice generously donated food supplies and around 30 volunteers to serve guests a delicious four course meal at the beautiful Harbour Commissioner in an early Christmas celebration.
The meal was expertly prepared by chefs from the Mount Charles Group who also gave their time and skills for free, to ensure people living in homelessness across Northern Ireland experienced a top-class day out.
The afternoon also included a variety of entertainment, including singer Kelly Smilie who was appropriately dressed as Mrs Clause, close-up Magician George Hannaway; and a fun prize raffle which saw guests walk away with kindles, vouchers and spa treats generously donated by Galgorm Collection.
It was an event thoroughly enjoyed by all 100 guests; and truly appreciated by all Simon Community NI clients and staff. We are already planning next year's extravaganza so that everyone we support can have something to look forward to at Christmas.
Christmas is a time for spending with family and friends, sitting by the fire, avoiding the cold weather by staying in, and exchanging gifts with the people you love. But unfortunately for a lot of the people we work with, this is not an option.
Christmas can be a lonely, isolating and sad time for people experiencing homelessness. Often they find themselves without a home due to family breakdown or the loss of a family member and so have no one to share this time of year with.
Thank you again to Henderson Foodservice, Mount Charles Group and the Belfast Harbour Commissioner for the incredible ongoing support for this annual event.
limitThumbs: