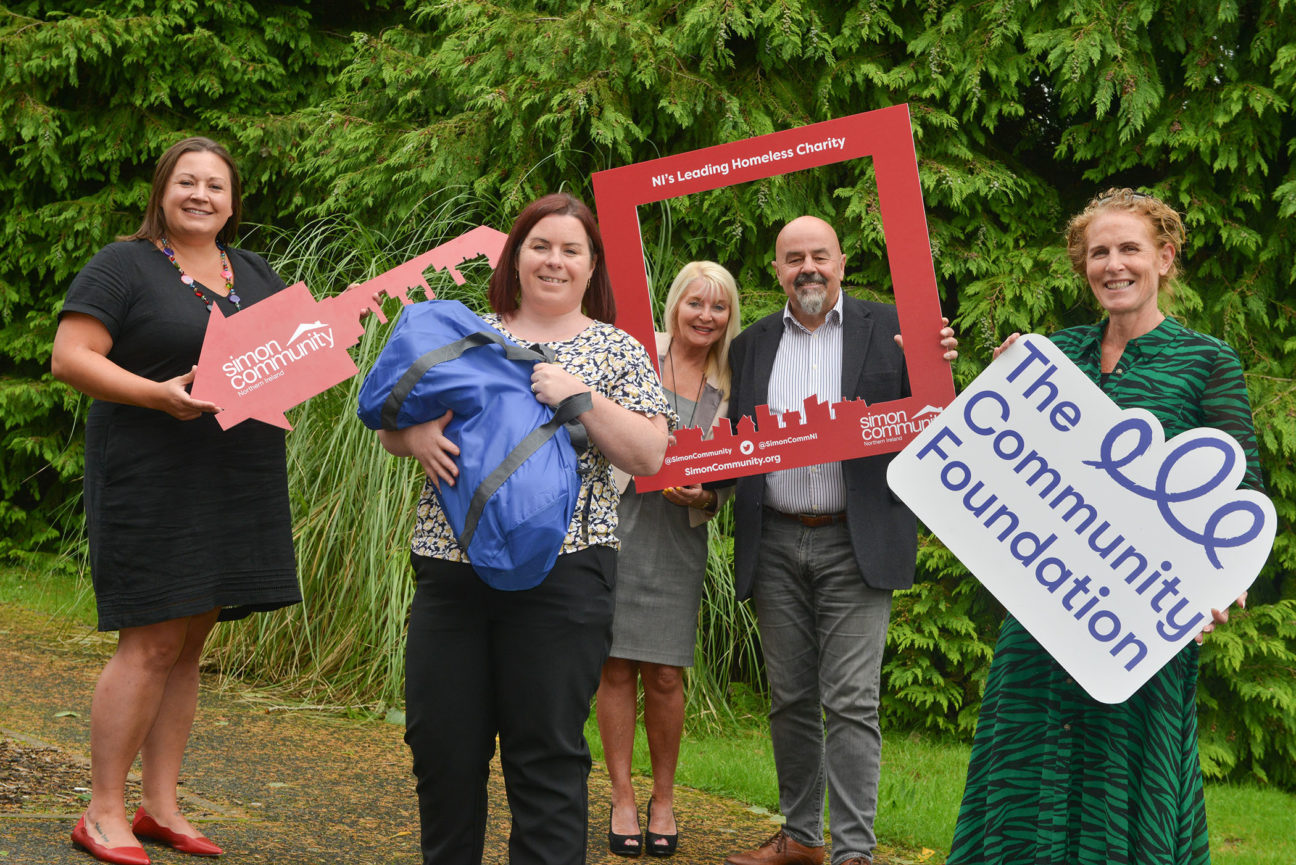 Simon Community NI, Northern Ireland's leading homeless charity, has received a boost for its 'Welcome Pack' initiative through funding awarded from Business Eye in partnership with the Community Foundation.
The charity which supports around 3000 people across 21 accommodation projects each year, will use the funding toward the provision of welcome packs for young homeless people who are entering its services.  The £3000 will cover the costs of welcome packs containing new towels, facecloth, basic clothing (where required), a holdall, sanitary items and essential food and toiletries for new clients for over two months.
Jim Dennison, Chief Executive of Simon Community NI explains, 
For someone experiencing homelessness during the Coronavirus pandemic, existing feelings of anxiety and worry can be heightened during a time when individuals are being asked to isolate further from society and remain on housing waiting lists for longer. Thankfully, during such an unsettling time, we can provide those with no family to turn to with a small gesture that can provide a level of dignity for someone arriving to us without even a toothbrush in their pocket.

The feedback we receive about our welcome packs is overwhelmingly positive with staff highlighting their uses in developing the trust needed to build relationships with new clients. The packs can greatly speed up the process of support with young people by making them feel welcome at Simon Community on their very first night, which can often be filled with doubt, loneliness and fear.
For many of the young people we support, they've come from the care system or childhoods filled with trauma and to transition them towards health and wellbeing initiatives, training classes and employment programmes takes time and patience. The welcome packs are the first step in a long journey out of homelessness.

Business Eye partnered with the Community Foundation for Northern Ireland in early 2019 to establish a fund, using the money raised at its annual Business Eye Awards.  The Community Foundation then matches the funds raised. 
 Last year, Business Eye and the Community Foundation supported 10 young leaders (aged 16 to 22) to complete a TAMHI Tackling Awareness of Mental Health Issues, training programme in advancing mental health.  TAMHI uses peer leadership training and sport to generate conversations among young people in their schools, youth groups and sports clubs about mental health.
Richard Buckley, Editor of Business Eye explains
Working with the Community Foundation has connected us to organisations which can make a real difference to young people. We're delighted to be able to provide support to Simon Community NI for its welcome pack initiative, the far-reaching effects of which we could never have imagined.
Síofra Healy, Director of Philanthropy at the Community Foundation for Northern Ireland said:
Our valued partnership with Business Eye allows us to do what we do best, which is connecting people who care with causes that matter. We have already seen the benefits to the young people engaged with TAMHI from the funding awarded by Business Eye in 2019 and we're delighted Business Eye have chosen to support Simon Community with this latest funding award. We look forward to working with them to support more future initiatives which positively impact the lives of young people.