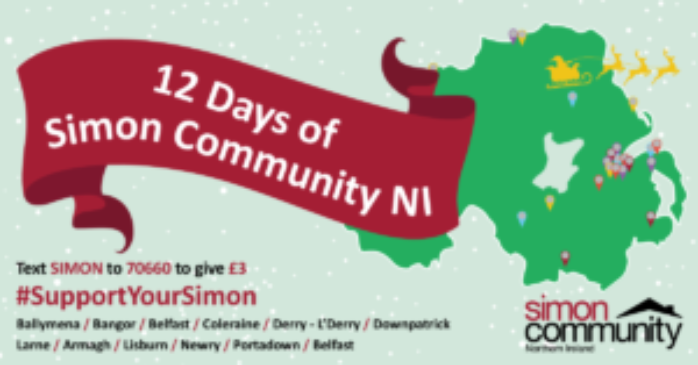 As Christmas approaches and you're out buying gifts, you're always encouraged to 'give local' and support local shops and businesses. So what better time is there to truly 'give local' and donate to your local Simon Community NI Accommodation Project?
Simon Community NI works throughout Northern Ireland to support anyone and everyone experiencing or at risk of homelessness. We have 22 Accommodation Projects across 12 towns and cities, providing 369 warm beds every day and night to young people, older people and families experiencing homelessness.
Our 12 Days of Christmas Campaign gives you the opportunity to donate just £3 to your local Project, to help the most vulnerable people in your community feel safe and supported, and give them hope for a positive, independent future.
If you text SIMON to 70660 to give £3 on the day you see your local Project on our social media channels, that money will go directly to support people in your local area.
Christmas is a time for spending with family but sadly for many of the people we support, this is not an option. Give just £3 this Christmas to Simon Community NI and help people experiencing homelessness in your community move away from temporary and emergency accommodation towards a secure and permanent home.